Boating, Canoeing and Kayaking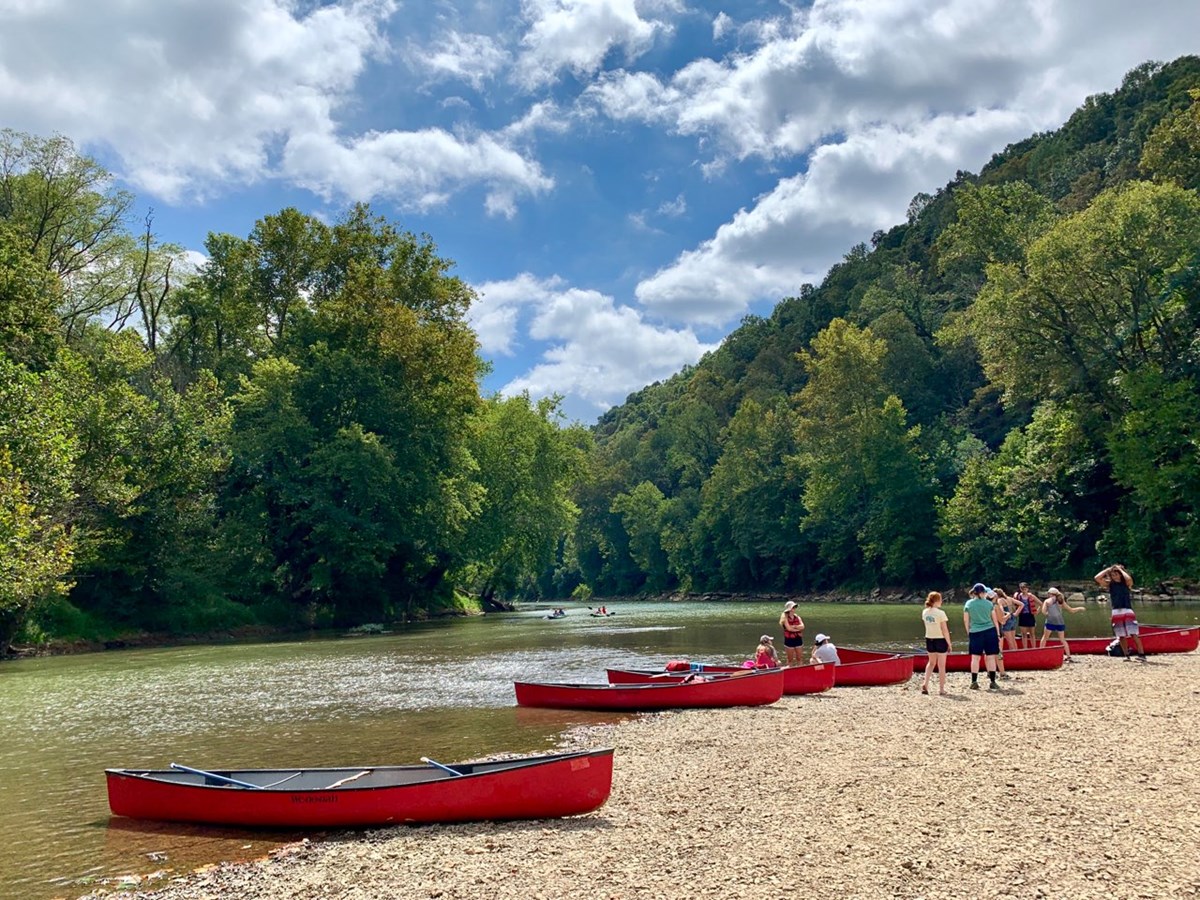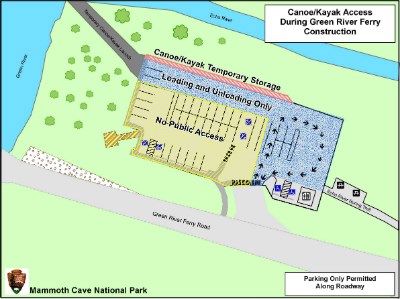 Modified River Access to the Green River Ferry Summer & Fall of 2019
From June 17 - November 15, 2019 the Green River Ferry area will be undergoing a number of improvement projects. Access to the Green River Ferry area for canoeing and the Echo River Springs Accessible Trail will be modified. For a larger version of this map and how to access this area during the project click
here
.
Full details of the projects can be found
here
.
Within the boundaries of Mammoth Cave National Park, 25 miles of the Green River and six miles of the Nolin River carry boaters past dramatic bluffs, majestic trees, and wildlife. The Green River, dotted with sandbars, islands, and subsurface springs, averages 200 feet wide and 10 feet deep, though its depth may be much greater in places. The Nolin River also averages about 10 feet deep, but its channel is narrower than the Green River. When the rivers flood, however, the current can be very swift, but no whitewater conditions exist in the park. Regardless of water level, always be alert to numerous hazards such as submerged trees and rocks, drifting debris, and the park's ferry.

Special Notice: Conditions Along Nolin River
---
River Distances
Current Green River Water Level
Know Before You Go…
Personal Flotation Devices (PFDs/life jacket) are required on all rivers inside Mammoth Cave National Park and should be worn at all times. 83% of canoe/kayak fatalities were not wearing a life jacket. Don't be a statistic!
Let someone know where you are going and when you expect to return. You should always leave a float plan with family/friends and inform them of your departure and return. Do not forget to inform them when you return so an unnecessary search is not started.
Your float plan should include:
The number of canoes/kayaks/boats on the trip, as well as physical descriptions of the crafts.
Names and addresses for each participant, as well as emergency contact phone numbers.
Any important medical conditions of participants.
The place, date, and time of departure and return destinations.
Any other piece of valuable information that should be known in case of the need for a search and rescue operation.
Use the buddy system. River recreation participation is at your own risk. Stay together and paddle within the skills of the least experienced paddler in the group.

Know the water stage. River use is prohibited when river levels are at or exceed 20 feet on the park's water level gauges. Canoe liveries with permits to operate in the park are prohibited from renting or providing canoes during these times.

After heavy rains rivers rise and sweep lots of debris from the shoreline. Debris can become a trap or hindrance in water incidents. Debris can be found in three levels: on the surface, suspended in the water and on the bottom. Suspended and bottom debris is usually invisible to you, and therefore is especially dangerous.

To find out whether conditions on Green River are suitable for you to launch your canoe or kayak visit the USGS website by clicking here.
Before you set out for river recreation inside Mammoth Cave National Park, ask yourself these questions:

Does everyone in my party have a Personal Flotation Device (PFD)?
Do I know the weather forecast?
Do I have a float plan, including an emergency contact that knows where I am going and when I plan to return?
Can I save myself if I fall out of my watercraft?

The use of a dry-bag is recommended for storing your valuables. Make sure that you attach the bag to your watercraft to ensure it does not sink if you capsize.
Capsizing is always a concern on the river. Try not to get caught in snags and look ahead for possible submerged trees or rocks. If you do tip over, do not panic! You have your PFD on and your things are secure in your dry bag, which is tied to your watercraft.
Boating Regulations
All boat passengers must wear a

U.S. Coast Guard-approved personal floatation device.
Never dump or discharge refuse in the water.
Do not leave boats unattended for longer than 24 hours without written permission from the Chief Ranger.
Boating accidents resulting in property damage, personal injury or death must be reported to a park ranger as soon as possible.
Operating a jet ski or any other 1- to 2-person motorized watercraft with a total length of 8 ft. or less is prohibited upon all navigable waters of the park. The use of this type watercraft on navigable park waters is hazardous due to submerged obstructions within river channels. The noise created by use of these types of watercraft is also incompatible with other park uses.
Tubing on the rivers inside Mammoth Cave National Park is prohibited.
Motorized vessels may not be operated above idle speed within 100 feet of the Green River Ferry. The area at Green River Ferry is generally recognized as docking and or moorage area. Vessels operating above idle speeds in this area pose a threat to themselves and other boaters/visitors.
All other Coast Guard and Kentucky state boating regulations apply.
Learn and Explore
---

More On The Rivers
Finding your way along the Green and Nolin Rivers in Mammoth Cave National Park is a lot easier if you follow these links.
Last updated: September 10, 2019