A free
backcountry use permit is required
for all camping at backcountry campsites and along the river floodplain.
Go in person to the backcountry permit office
, located in the Visitor Center ticket sales area, to obtain your permit and a free trail map showing backcountry campsites. When acquiring your permit please have the following information with you:
Driver's License Photo ID
Make/model of your vehicle
License Plate Number
Be aware that
backcountry permits are not issued during the last fifteen minutes
before the Visitor Center closes each day. Check
here for Visitor Center hours.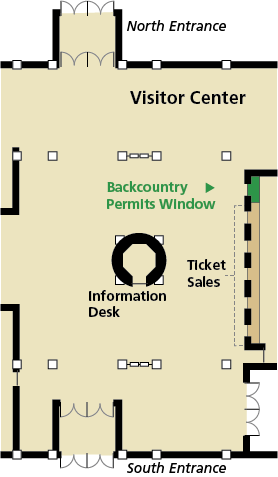 Map of the Mammoth Cave National Park Visitor Center showing the location of the Backcountry Permit Window at the far left of the Ticket Sales windows.