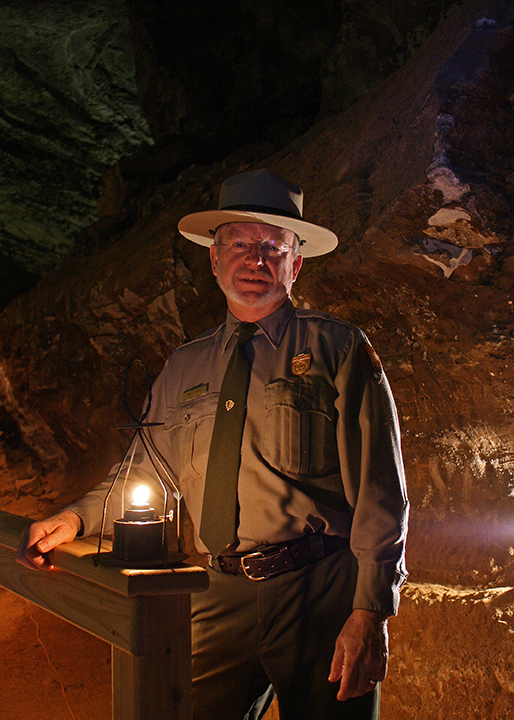 News Release Date:
March 5, 2014
Contact: Vickie Carson, 270-758-2192
(MAMMOTH CAVE, Ky., March 5, 2014) Dave Wyrick's life is spiced with variety. From his hometown of Carlsbad, N.M., Wyrick has lived and worked from Washington State, to Washington, D.C., from Fort Sumter, S.C. to an historic ranch in Montana, from bluffs over the Mississippi River in Natchez to the great Mammoth Cave of Kentucky.
This month, Wyrick will dust off his caving gear from his years at Carlsbad Caverns to begin his new position as the chief of the division of interpretation and visitor services at Mammoth Cave National Park
"Dave Wyrick has a broad background and is a great addition to our management team at Mammoth Cave," said Superintendent Sarah Craighead. "Our interpretive staff is one of the largest in the National Park Service (NPS), and we offer more formal programs each year than Great Smokies, Everglades, and Shenandoah National Parks combined. At his previous parks, Dave has found ways to engage the public that could be applied at Mammoth Cave. I'm looking forward to working with him." 
Wyrick grew up in Carlsbad, N.M., not far from Carlsbad Caverns National Park. His grandfather was a state forest ranger on Cloudy Mountain in Oklahoma. "As a kid, I loved to visit my grandfather and because of him I knew that I wanted to be a ranger someday," said Wyrick. He pursued and earned a degree in park administration at Eastern Washington University, in Cheney, Wash., in 1981. Following college, he found seasonal ranger employment with the U.S.D.A. Forest Service, and at Carlsbad Caverns National Park. 
In 1983, Wyrick switched career-gears and moved to Maryland, where he took a job in construction and worked his way up to the level of construction superintendent, building homes and subdivisions. 
Wyrick's interest in parks resurfaced in 1991. He gave up construction and became an NPS interpretive ranger on the D.C. Mall, touring visitors through memorials, museums, and up and down the Washington Monument. And so his list of parks continued: Rock Creek Park, a 2,800-acre forest in the middle of D.C. (1994-1995); Fort Sumter National Monument in South Carolina (1995-2000); Carlsbad Caverns National Park, where he supervised the cave tour operation (2000-2004); Grant-Kohrs Ranch National Historic Site, Mont., where Wyrick served as the chief of education, interpretation and cultural resources (2005-2009). In 2009, the couple came back east to Natchez National Historic Park, Miss., where Wyrick was the chief of interpretation and resource management until moving to Mammoth Cave. 
"I'm excited to work in a cave again," said Wyrick. "National park areas each present the challenge of helping the public experience and appreciate our national treasures in such a way that the treasure is well protected and preserved. It is the same here at Mammoth Cave. When visitors arrive, they may think our main attraction is just a big hole in the ground, so it's our job to help them see the intricacies of underground life and its dependence on the surface world. I haven't been caving since my years at Carlsbad. My hardhat and headlamp are ready to go." 
Wyrick and his wife, Mary Ann (nee Roth) have a grown daughter Jessica, and two dachshunds, Lilly and Edward. They enjoy outdoor sports and have embraced the possibilities of each place they have been stationed, like skiing in Montana and kayaking in South Carolina. Here in Kentucky they plan to hike, bike and kayak. 
 www.nps.gov/maca