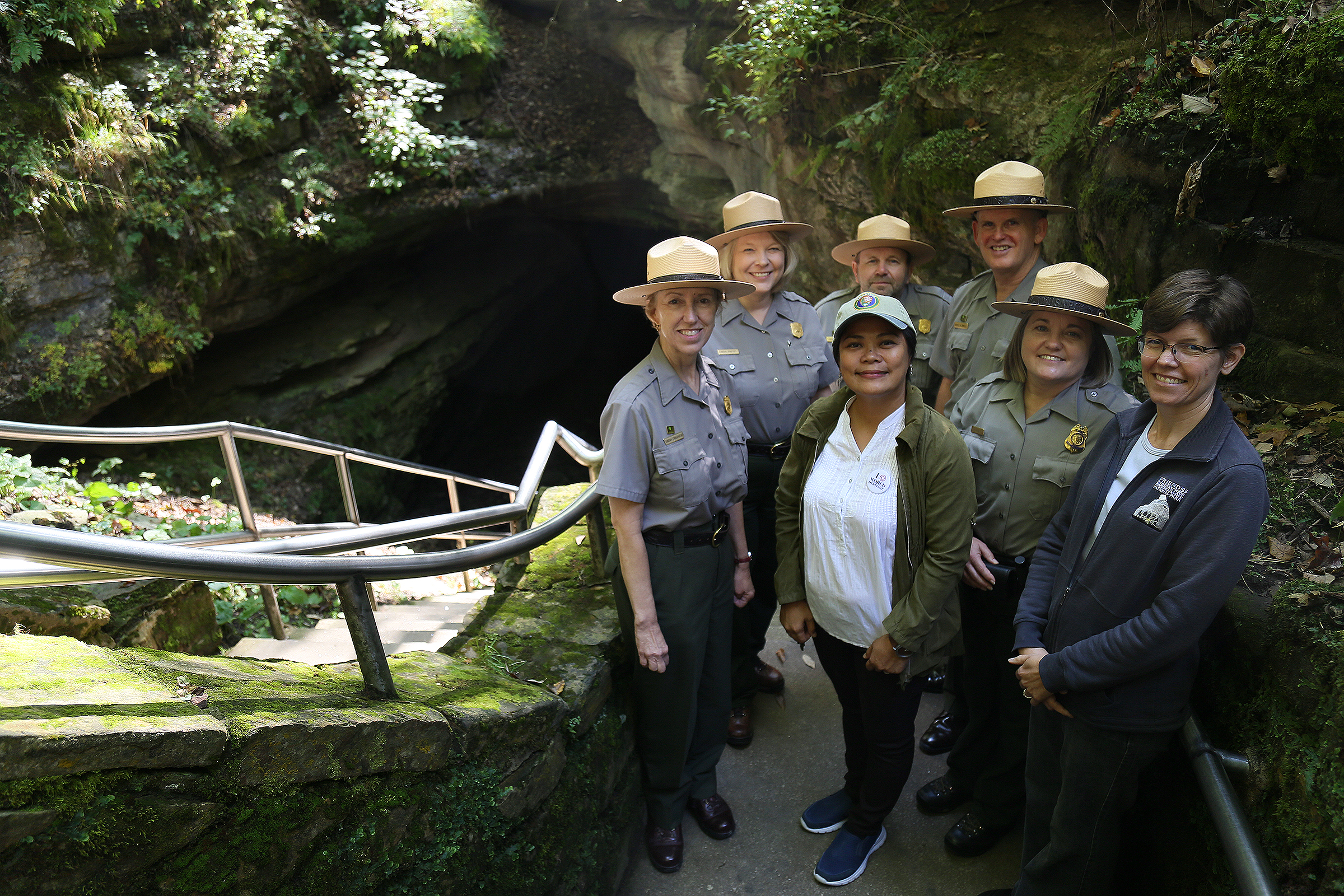 News Release Date:
October 5, 2016
Contact: Vickie Carson, 270-758-2192
MAMMOTH CAVE, Ky., October 5, 2016 – Elizabeth Maclang, superintendent of Puerto Princesa Subterranean River National Park in the Philippines, is visiting Mammoth Cave National Park as a World Heritage Fellow.
Puerto Princesa, like Mammoth Cave, is designated as a UNESCO World Heritage Site and lies within an International Biosphere Reserve. The month-long Fellowship Program is sponsored by the National Park Service Office of International Affairs in partnership with the George Wright Society. 
"It has been a great honor and pleasure to host Ms. Maclang during her Fellowship here at Mammoth Cave," said Superintendent Sarah Craighead. "Our focus has been to get Ms. Maclang into the cave and forest, allowing her to experience United States park management first hand. Though there are some similarities between Puerto Princesa and Mammoth Cave, there are many differences, too. Conversations with Ms. Maclang have been eye-opening for me and my staff." 
Maclang has been superintendent of Puerto Princesa Subterranean River National Park for the last three years. Prior to that time, she served in a network of environmental non-governmental organizations in the Palawan province for 16 years. 
While at Mammoth Cave, Ms. Maclang participated in bat surveys, caving expeditions, and law enforcement briefings. She toured the archival collection, visited privately-owned caves, assisted in environmental education lessons, and observed how cave tours are managed at Mammoth Cave. 
Puerto Princesa Subterranean River National Park is located on the island of Palawan in the Philippines. The cave opens on the ocean and the only way to tour the cave is by small 10-person boats. Guides paddle while visitors listen to multi-lingual headsets;most visitors come via organized tours from the United States, Taiwan, Korea, China and Europe. There is a carrying capacity of 1,200 people per day. Three indigenous people-groups live within the park. 
"My visit to Mammoth Cave and central Kentucky has been very helpful," said Maclang. "It is very important that everything I have learned here at Mammoth Cave will be adapted to our operations at Puerto Princesa." 
Learn more about Puerto Princesa at https://www.facebook.com/ppundergroundriver 
www.nps.gov/maca/