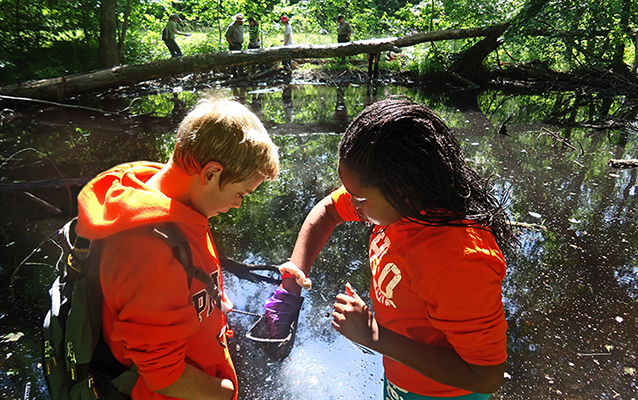 News Release Date:
July 30, 2013
Contact: Vickie Carson, 270-758-2192
This summer, 24 sixth, seventh, and eighth graders from the Dayton Regional STEM School in Kettering, Ohio, completed an intensive, hands-on, three-week course focused on the science and history of Mammoth Cave National Park in Kentucky. The Mammoth Cave International Center for Science and Learning (Research Learning Center) facilitated their trip and literally immersed the students in caves, ponds, and research. 
"The Research Learning Center is a bridge between researchers and visitors, whether they are in the park, classroom, or online," said Sarah Craighead, superintendent of Mammoth Cave National Park. "The staff often use a method called citizen science, where the public participates in field work to collect data for ongoing scientific studies. It's a big win-win experience. The students explore, enjoy, and learn about the Park, and we benefit from the data collected." 
During Week-1, the group was at home, gaining basic knowledge of the Park and research techniques; Week-2 was spent in the Park; and Week-3 was back in Dayton, analyzing data, writing reports, and making presentations about what they had learned. 
While in the Park, the students and their teachers:
· collected water chemistry and data about how fast the water was flowing at five underground sites. Their data was added to a larger ongoing study of water quality in Mammoth Cave's watershed, which extends beyond the park boundary to cities, farms and highways.
· mapped and photographed a historic African-American cemetery in the Park, noting headstones and footstones. 
· visited a constructed bat roost to learn how the Park monitors summer bat populations.
· collected water samples and dragonfly larvae at two of the Park's upland ponds as part of a multi-park citizen science project monitoring mercury bio-accumulation in dragonfly larvae. Fourteen national parks from across the country are participating in this project which is led by researchers at the University of Maine.  Results from last year's 2013 pilot project can be found at https://www.nature.nps.gov/air/Studies/air_toxics/dragonfly/index.cfm.
· photographed twelve historic locations in the cave to compare with images taken in 1991. Park staff want to know if these sites, which are listed on the National Register of Historic Places, have changed over time.
· used night-vision goggles and a thermal-imaging camera to monitor a dead tree in the campground at dusk to determine if bats were roosting in its loose bark. No bats were observed using the tree and it was cut down the next morning.   
"This isn't just a fun field trip," added Shannon Trimboli, education director for the Research Learning Center. "These kids are doing real research. Their data will be used here in the Park and by university scientists from across the country. The Dayton students were well prepared and accomplished a lot while they were here at Mammoth Cave." 
After they returned to school, Trimboli continued to work with them remotely during Week-3 as they developed projects based on their experiences and the data they collected.  In total, the students and teachers contributed 1,091 volunteer-hours doing citizen science research at Mammoth Cave National Park.
Following the completion of the course, one student, Katie Robinson, said: "…I learned on the trip that using the bat equipment and counting bats were real life jobs. I love wildlife and I like technology. I don't know what I want to study in college, but now I have an idea…Thank you for the extra opportunity to learn, watch and listen to bats. I really2 enjoyed watching that tree, I hope the data we collected there was helpful."