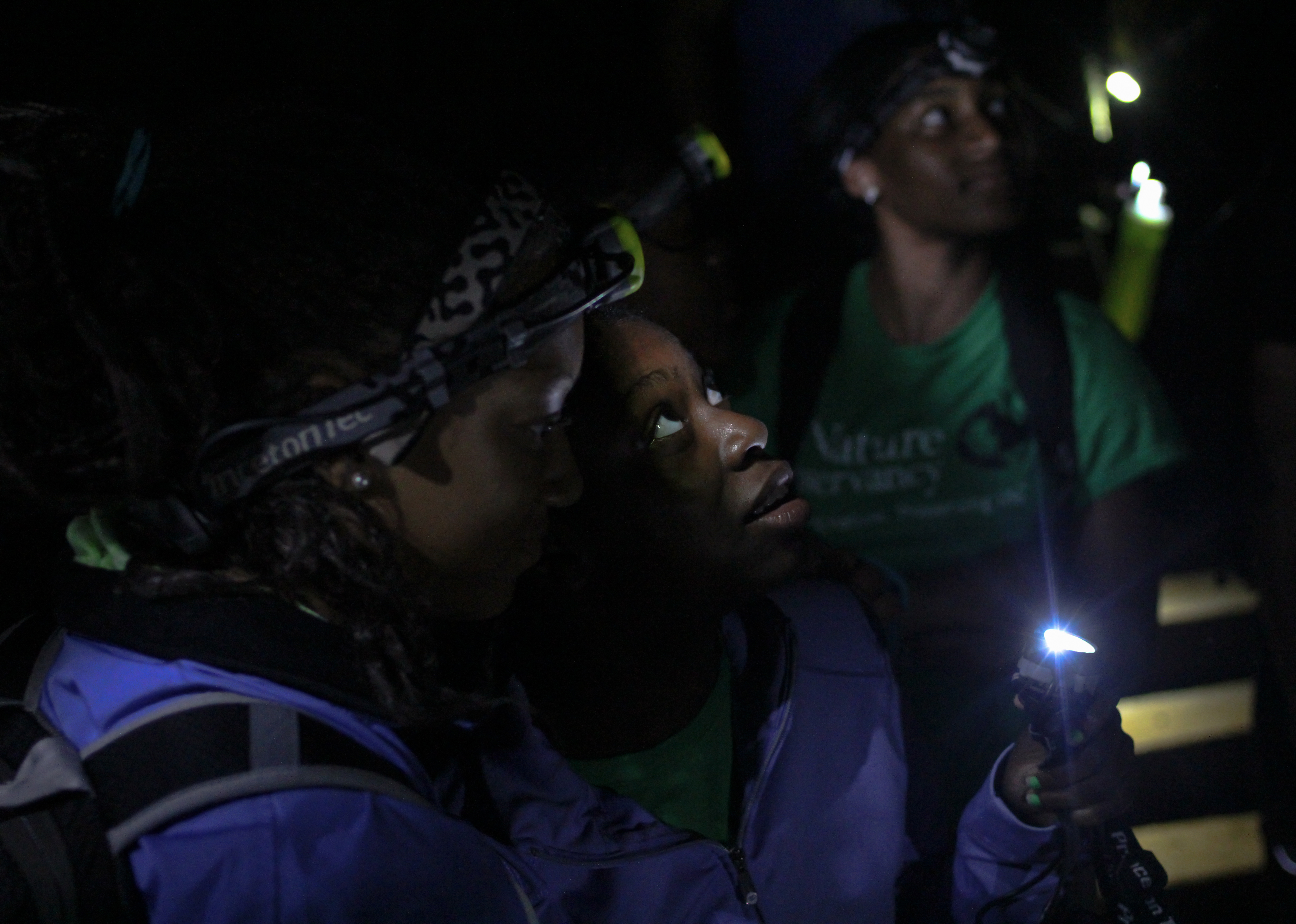 News Release Date:
July 29, 2014
Contact: Vickie Carson, 270-758-2192
Contact: Gerry James, 502-625-0177
MAMMOTH CAVE, Ky., July 29, 2014 – Staff members of The Nature Conservancy's (TNC) Kentucky Chapter visited Mammoth Cave National Park last weekend to view the work TNC has accomplished within the park, and as an orientation for the group's new state director, David Phemister. Also attending were six high school students from Atlanta, Ga., interning with TNC through its Leaders in Environmental Action for the Future, or LEAF.
"Mammoth Cave National Park has a long, productive relationship with The Nature Conservancy," said Acting Superintendent Lizzie Watts. "TNC staff, interns and volunteers have assisted the park with prescribed fires, in controlling invasive plants, and in improving mussel habitat in Green River through the Sustainable Rivers Program." 
Park Ecologist Rick Olson led the group on a special cave trip through the Violet City Lantern Tour route, to the Dead Sea, up through Mammoth Dome, and out the Historic Entrance, about 3.5 miles underground. 
"It was a pleasure to introduce Mr. Phemister, his staff, and the LEAF interns to a few of Mammoth Cave's passageways," said Olson. "We looked at 2,000-year-old gourd bowls left by the prehistoric miners and discussed the power of water and time in forming the world's longest cave. Mammoth Cave is one of those places that you have to see to believe." 
On July 21, 2014, Phemister was named TNC's State Director of the Kentucky Chapter. Phemister oversees the strategic direction and management of the Kentucky Chapter's eleven-person staff, system of 36 nature preserves totaling 7,665 acres and array of conservation projects taking place around the state. 
"Our LEAF interns have primarily been working on urban conservation in Louisville," said Gerry James, TNC-Kentucky's Donor & Community Outreach Coordinator. "But we wanted them to get a well-rounded '#ExploreKentucky' experience, so they have also worked at the Sally Brown Preserve in Garrand County, and visited Shaker Village, Campbellsville University, and now Mammoth Cave National Park." 
This week, TNC staff will be back at Mammoth Cave to remove invasive plants from the park barrens, near Park City. "This is a reclaimed prairie," said Olson. "About 70 acres along the parkway were covered with cedar and brushes. The 50-year-old seed bank seemed intact, and it appeared that the seeds were still viable, but just needed sun to grow. We removed the trees and shrubs and the prairie plants returned. Unfortunately, undesirable came up, too, like stilt grass, perilla, and lespedeza." The TNC crew and Olson will spray invasive plants that crowd out native species. The application is done in a very targeted manner to avoid damage to native plants and wildlife. 
www.nps.gov/maca