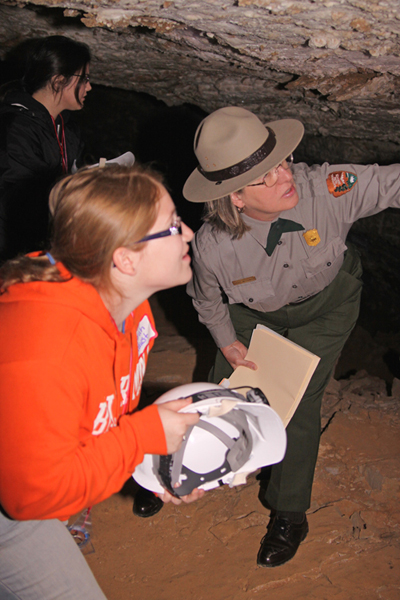 News Release Date:
September 3, 2010
Contact: Vickie Carson, 270-758-2192
Consider passive versus active learning. Would you rather learn math sitting at a desk, or put it to use as you calculate the height of a tree? Study the water cycle from a book, or follow a stream's course above and below ground?
Through overnight workshops at the park, Mammoth Cave National Park and Western Kentucky University are partnering to teach new teachers how asking questions leads to better learning. Funded by the National Park Foundation's Parks as Resources for Knowledge (PARK) program, the workshops are designed to use our national parks to enhance college and university learning.
"Encouraging questions and engaging students in their surroundings stimulates learning," said Cheryl Messenger, Mammoth Cave's environmental education coordinator. "It's called inquiry-based learning and it emphasizes thinking and doing, not just memorization. The goal is to introduce new teachers to the concept before they enter the classroom."
WKU assistant professor Dr. Jeanine Huss coordinates the campus-side of the program. She emphasized the benefits of the workshops to the schools where the pre-service teachers will eventually work. "Getting teachers and students out of the classroom and into the outdoors has psychological, learning, and physical benefits," said Huss. "We provide teachers with the hands-on tools and activities they need to connect their lessons with the world around them."
"Kids, and adults, learn more easily when they are outside, moving and experiencing a lesson," said Neil Mullholland, president of the National Park Foundation. "National parks are America's best classrooms, and we're proud to be connecting more teachers and students to the parks in their communities."
During one of the workshops last year, teacher-students mapped sections of Gothic Avenue inside Mammoth Cave, noting features such as cave springs, stalactites and stalagmites. Then they walked above the cave to find sinkholes and other surface elements that correlated to what they found in the cave.  
The park has coordinated similar day trips with WKU since 1980. Thanks to the National Park Foundation grant, the workshops have expanded to an overnight program in 2009. "The overnight more than doubles their time in the park," said Messenger. "It gives participants the chance to make observations and ask their own questions, like why does this rock sparkle, or where did the cave dirt come from?"
Messenger said the best part of the program is seeing the impact it has on future educators. "One pre-service teacher said she dreaded the idea of spending the night in the park, but after she participated in the workshop she said she couldn't wait to do something similar with her future students."
This year she expects to host 240 education majors in six overnight trips and 4 single-day programs.
- NPS -