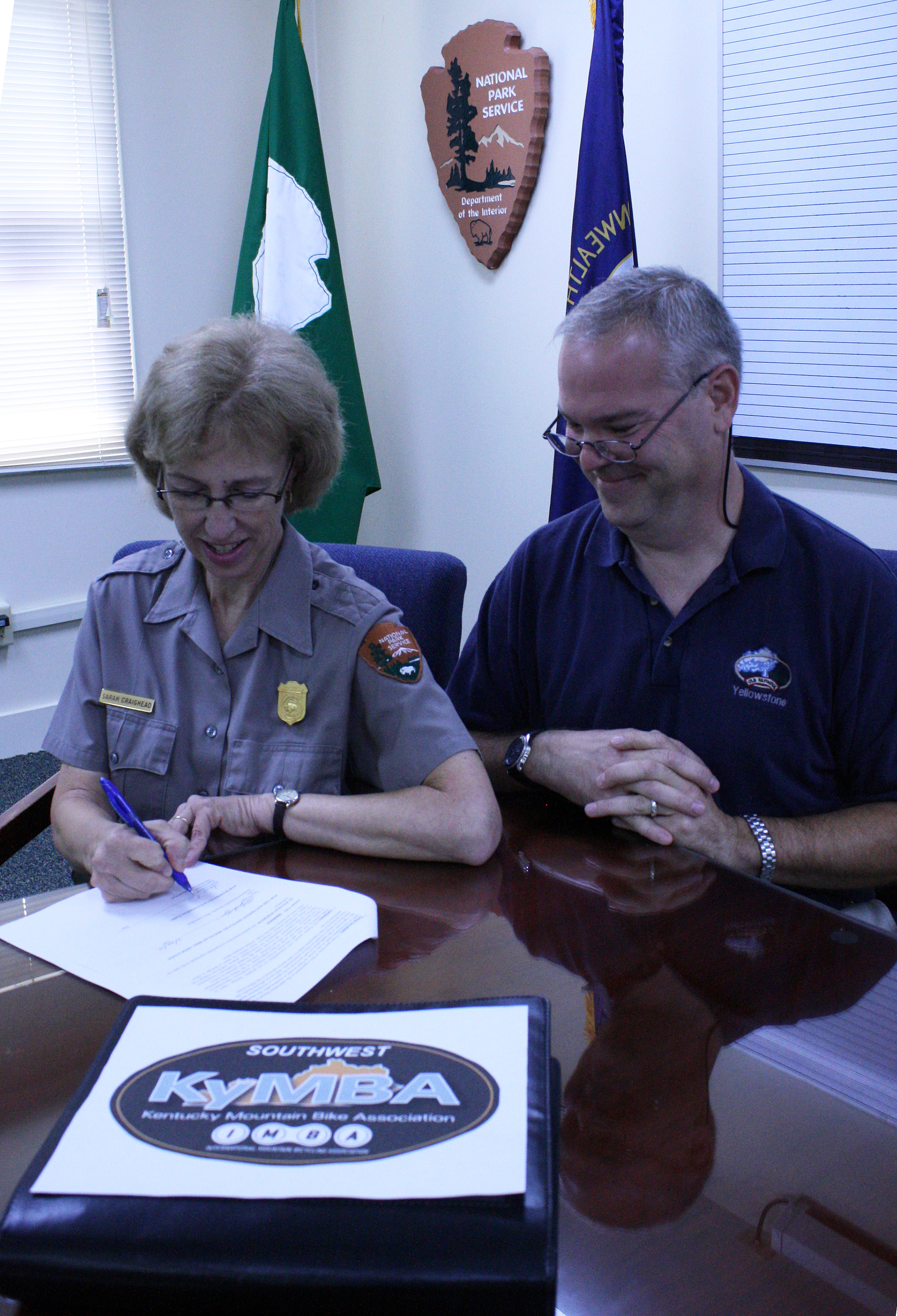 News Release Date:
July 26, 2013
Contact: Vickie Cason, 270-758-2192
MAMMOTH CAVE, Ky., July 26, 2013 – On July 22, 2013, Mammoth Cave National Park Superintendent Sarah Craighead signed an agreement with the Southwest Kentucky Mountain Bike Association which establishes its members as the primary caretakers of the new 8-mile Big Hollow Trail. 
"The relationship is a model for Mammoth Cave trail users, and for trail all across the National Park System," said Craighead. "The biking community has made a promise to keep Big Hollow Trail in good conditions for hikers and bikers alike. It makes good sense that if you use a trail, you help maintain it." 
The Southwest Kentucky Mountain Bike Association, or SWKyMBA, is a local chapter of the International Mountain Bike Association, one of three in the state. 
The agreement states that SWKyMBA will volunteer to maintain and repair the new 8-mile trail, since the Park no longer has funding or staff to take care for its entire 80-mile system of surface trails. 
"Our members are excited to be part of the Big Hollow Trail, the first professionally built mountain bike and hike trail built in a national park," said SWKyMBA Chairman Chip Winger, who signed the agreement. "This is a momentous occasion not just for mountain bikers, but for hikers and trail runners alike who will also enjoy the use of the trail.  Our Chapter appreciates the trust that Superintendent Craighead has bestowed upon our organization to become the stewards of Big Hollow Trail." 
Big Hollow Trail is presently under construction in the backcountry of the Park, north of Green River and east of the Green River Road.   The Park contracted with Trail Dynamics and the Lightsey Corporation to build the new trail to specifications appropriate for hiking and mountain biking. 
Dependent on the weather, the trail is slated for completion in fall 2013. 
www.nps.gov/maca