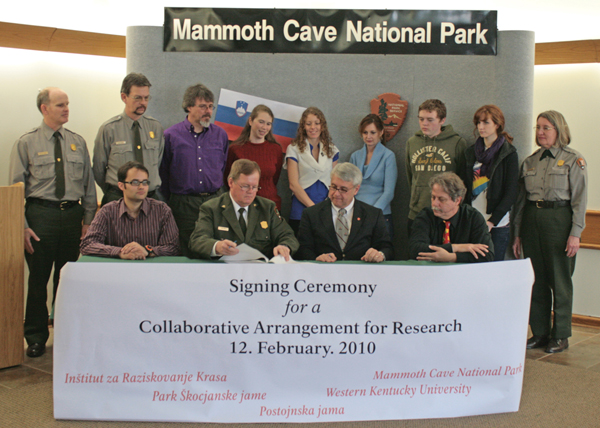 News Release Date:
February 22, 2010
Contact: Nicole Bull, 270-758-2192
On Friday February 12 Mammoth Cave National Park expanded its family of partners by adding new "sisters" in Slovenia. A signing ceremony between Mammoth Cave, Western Kentucky University, and the Karst Research Institute of the Slovenian Academy of Sciences and Arts established a cooperative arrangement to share scientific research.
Mammoth Cave Superintendent Patrick Reed said, "As a World Heritage Site and International Biosphere Reserve, Mammoth Cave is reaching out to other nations and internationally renowned karst areas. This is a great opportunity to work with our long-standing partner Western Kentucky University and forge new connections with our Slovenian friends."
Participating in the signing were Superintendent Reed, Dr. Janez Mulec of the Slovenian Karst Research Institute, Dr. Blaine Ferrell, Dean of Ogden College of Science and Engineering, and Dr. Chris Groves, Director of the Hoffman Institute at Western Kentucky University.
Dr. Mulec traveled to Kentucky representing the Slovenian partners – Skocjan Caves, Postojna Cave, and the Slovenian Karst Research Institute. "Skocjan is a World Heritage Site and Postojna receives around 500,000 visitors a year, making it a top tourist destination," said Mulec. "The Slovenian karst landscape is very similar to south central Kentucky with numerous sinkholes and limestone caves. As cave managers, we share many similar issues."
While visiting Kentucky, Dr. Mulec focused on his specialty of lampenflora, or algae and green plants that grow around cave lighting. He said, "I toured sections of Mammoth Cave to observe these plants. We are actively working to remove lampenflora in Slovenian caves because it detracts from the beauty of caves. It also disrupts the cave eco-system by introducing a new source of energy into the food chain."
Dr. Rick Toomey of the Mammoth Cave International Center for Science and Learning looks forward to cooperating with Slovenian scientists to exchange technology to remove green plants. "This arrangement will enable us to work with Slovenian scientists to explore methods to remove lampenflora, and avoid harming cave animals or damaging formations."
The Friends of Mammoth Cave National Park, with the help of Bluegrass Cellular, sponsored a Greenwood High School environmental science class as they participate in a workshop inside Mammoth Cave with Dr. Mulec. The students also attended the signing ceremony at the Mammoth Cave Hotel.