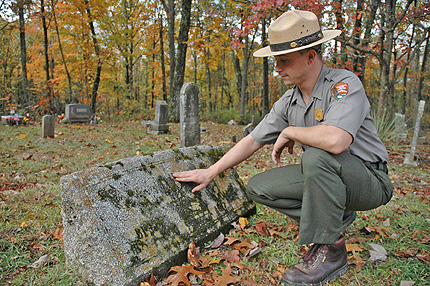 News Release Date:
November 3, 2009
Contact: Vickie Carson, 270.758.2192
Roots in the Cave, November 13-15, is a weekend for family research regarding the people who lived in what is now Mammoth Cave National Park. There is something for everyone interested in the history, preservation, and genealogy within Hart, Barren, and Edmonson counties. All workshops and hikes are free of charge.
The program begins at 6:30 Friday night with a workshop on how to find Kentucky records through land transaction records, and a session on finding ancestors through records of the Mexican War and American Civil War.
At 9:00 am on Saturday morning a workshop will focus on conserving and preserving cemeteries and monuments. Activities in the afternoon include a 1:30 history trip to Doyle Valley, a 2:00 pm presentation on genealogy for beginners, and a 4:00 discussion and photo sharing session on hotels, stores and other businesses that were on the land that became the national park.
On Sunday afternoon at 1:30 learn the history of Salts Cave on a guided hike.
The Rotunda Room in the hotel is open throughout the weekend and is the place for sharing family history and remembrances.
Roots in the Cave is sponsored by the National Park Service and the Mammoth Cave Hotel. Complete agenda information is available by email, on the web at www.nps.gov/maca, or by phone: (270)773-5099.
-NPS-