NPS launches Kentucky National Park Pentathlon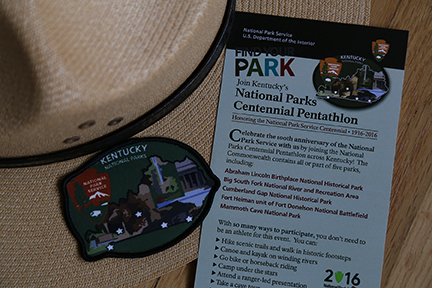 News Release Date:
July 13, 2015
Contact: Vickie Carson, 270-758-2192
MAMMOTH CAVE, Ky., July 13, 2015 – This week, the National Park Service (NPS) areas in Kentucky launch the Kentucky National Park Pentathlon, inviting those who visit all five NPS sites in the state to earn a special free commemorative patch. The Pentathlon is in recognition of the NPS 2016 Centennial.
"Congress passed the Organic Act in 1916, which created a new federal agency to manage national park lands," said Superintendent Sarah Craighead. "During this Centennial we encourage everyone to find their park and get outside to enjoy what it has to offer." 
Pentathlon participants can earn the commemorative patch by visiting all Kentucky national parks by April 2017, and participating at a least one activity at each park. 
"The Kentucky Parks Pentathlon is a wonderful way to experience the five national parks across the state," said Craighead. "Each one has spectacular resources and a wide range of recreational opportunities." 
Kentucky has all or part of five national park sites within its borders, including: 
Abraham Lincoln Birthplace National Historical Park (Larue County), 

Big South Fork National River &Recreation Area (McCreary County), 

Cumberland Gap National Historical Park (Bell and Harlan Counties), 

The Fort Heiman unit of Fort Donelson National Battlefield (Calloway County), and 

Mammoth Cave National Park (Edmonson, Hart, and Barren Counties). 
Possible activities include hiking, biking, horseback riding, canoeing, camping, volunteering, attend a ranger-led tour/presentation, bird-watching, visiting a park's museum, seeing park's film or any other activity available at the parks. Participants can do the same activity at all five parks or try something different at each location. 
The NPS is promoting its Centennial slogan "Find Your Park" and the use of #FindYourPark by visitors as they post their experiences and photos to social media sites. 
Last updated: July 15, 2015