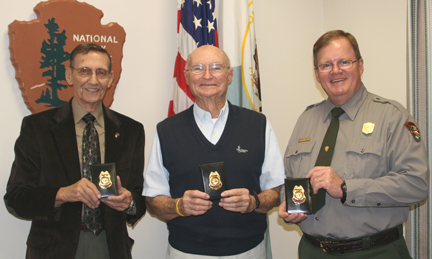 News Release Date:
January 26, 2010
Twenty years is a long time.  On December 17, 2009, Mammoth Cave staff honored three park staff (two retirees and one superintendent) who each served 20 years as law enforcement officers.  Max Vincent, Richard Strange, and Superintendent Patrick Reed received special law enforcement credentials from the National Park Service.
"These are called retirement credentials because a ranger is required to retire from law enforcement after 20 years," said Chief Ranger Wayne Elliott.  "Each of these men carried a badge and a gun, protecting park lands and visitors.  Park rangers must demonstrate a calm and friendly demeanor to visitors, but also be prepared to make an arrest."
Max Vincent worked at Mammoth Cave from 1974 to 1993.  He patrolled the roads, trails, backcountry and rivers.  Max, who was born on park land, trained up many young rangers, imparting his first hand knowledge of park resources.  He and his wife, Dee, reside in Edmonson County.
Dick Strange spent 32 years with the National Park Service, at Lassen Volcanic NP (Ca.), Organ Pipe Cactus NM (Ariz.), Big Bend NP (Texas), Cape Cod NS (Mass.), and Mammoth Cave NP.  He retired in 1987 as chief ranger at Mammoth Cave.  Dick and his wife, Flo, reside in Barren County.
Patrick Reed, superintendent of Mammoth Cave NP, has clocked in 39 years with the NPS, and like the battery bunny is still going.  His other parks include Natchez Trace Parkway (Miss.), Rocky Mountain NP (Colo.), Cape Hatteras NS (N.C.), Wilson's Creek NB (Mo.), Sequoia/Kings Canyon NP (Calif.), Death Valley NP (Calif.), Jefferson National Expansion Memorial (Mo.), Grand Teton NP (Wyo.), and Mount Rushmore NM (S.D.).  Pat and his wife, Darit, live in Bowling Green. 
"To the credit of these gentlemen, I must add that rangering is no walk in the park," said Elliott.  "Just here at Mammoth Cave we deal with search and rescues – both surface and underground – marijuana plots, poaching, archeological looting, medical emergencies, domestic complaints, drug arrests, motor vehicle accidents, and our rangers also assist county officers upon request.  We are very pleased to honor Max, Dick and Superintendent Reed with these special credentials as a sign of our respect and gratitude for their years of service and dedication to the National Park Service."
- NPS -