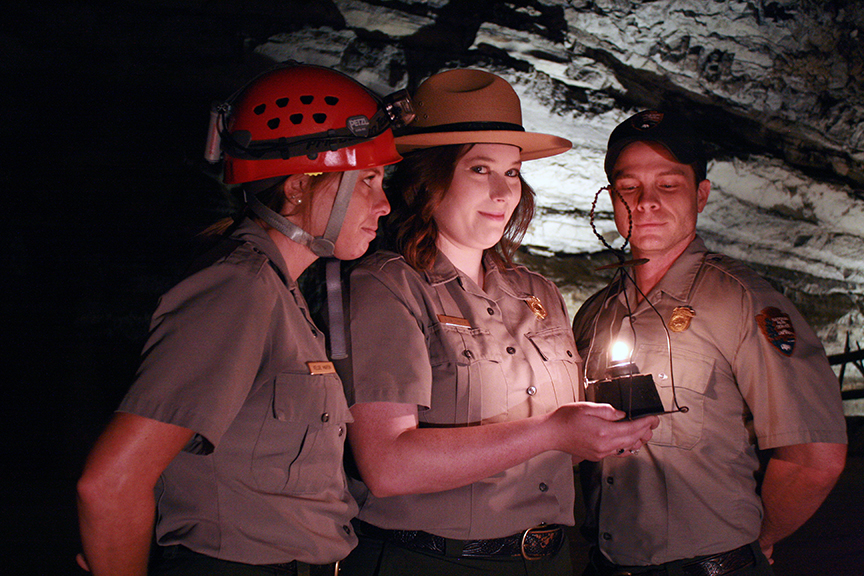 News Release Date:
April 9, 2016
Contact: Vickie Carson, 270-758-2192
MAMMOTH CAVE, Ky., April 9, 2016 – It is National Park Week and time to celebrate! 2016 marks multiple anniversaries for Mammoth Cave, and the celebration starts this week.
–In 2016, Mammoth Cave National Park celebrates the National Park Service centennial, when Congress signed the Organic Act into law. It initiated a new idea in 1916 – national parks – lands so significant that they should belong to all U.S. citizens. 
–In 2016, the Park celebrates the 75th anniversary of Mammoth Cave National Park, the 26th national park. Mammoth Cave, Shenandoah, and Great Smoky Mountains were authorized by Congress to be "parks-in-the-east", pleasuring grounds within a day's drive of most of the U.S. population. Mammoth Cave's 1941 legislation mandates protection of the cave system, the scenic river valleys, and the hilly, karst topography typical of south central Kentucky. 
–In 2016, the Park will celebrate 35 years as a World Heritage Site. In 1981, the World Heritage Convention, a branch of United Nations Educational, Scientific and Cultural Organization (UNESCO), inscribed Mammoth Cave National Park was as a World Heritage Site, as a superlative natural phenomena;example of major stages of the earth's history, and a most important and significant natural habitat for in-situ conservation of biological diversity. 
–In 2016, the Park will celebrate 200 years of guided tours through Mammoth Cave. In the early 1800s, word of a mammoth cave in Kentucky spread around the world. Cabins that housed saltpeter workers at Mammoth Cave a few years before, now served as lodging for road-worn travelers. Cave guiding became a profession to free and enslaved men. 
"We invite our neighbors and the traveling public to join us as we celebrate National Park Week," said Superintendent Sarah Craighead. "Follow a ranger in search of birds and spring wildflowers. Lend a hand to clean up the Park. Become a Junior Ranger. Learn the health benefits of being outside. Take a free cave tour, or bring the entire family out for a picnic. Enjoy your national park!" 
April 16 – Wildflower Day 
Stop at the visitor center to enjoy displays of currently blooming wildflowers, courtesy of the personal gardens of the Warren East Garden Club members. 
8:15-9:15 a.m., Let's Go Birding for Families;meet at the visitor center. 
8:30-9:30 a.m., Junior Ranger Nature Track: Water Science, meet at the visitor center. 
9:45-11:45 a.m., Find Your Park through Art, supplies provided, meet at the visitor center. 
10:30 a.m.-12:30 p.m., Ridge to River Wildflower Hike, meet at the visitor center. 
12:00-1:00 p.m., Junior Ranger Nature Track: Rotten Log Study, meet at the visitor center. 
1:30-3:30 p.m., Nature Write: Adventures in Journaling, supplies provided, meet at the visitor center. 
2:00-3:00 p.m., Junior Ranger Nature Track, meet at the visitor center. 
2:00-4:00 p.m., Water &Wildflowers/Cedar Sink Hike;meet at the Cedar Sink Trailhead. 
7:00-7:45 p.m., Bat Chat: The Basics and Beyond, evening program at the amphitheater. 
Sunday, April 17 – Earth Day Stewardship Project: 9:00 a.m. – 12:00 p.m. 
Spring cleanup time! Participants will meet at the visitor center to be briefed on the project and participate in a safety talk. Volunteers then caravan to the parking area on the north side of the Green River to assist with roadside cleanup. Visitors do not need to stay all morning, but do need to be at the visitor center by 9:00. All supplies and safety equipment provided. 
April 16 &17, April 23 &24 –Free cave tour: Mammoth Cave Discovery Tour 
Participants must pick up a free ticket in the visitor center before going on this tour. The Mammoth Cave Discovery Tour requires a walk down and up the steep hill below the visitor center, as well as 160 steps. Visit the Rotunda, one of the cave's largest rooms, explore a vast canyon passageway, and learn about 19th-century saltpeter mining operations and the geologic origins of the Mammoth Cave System. Mammoth Cave Discovery Tour will be offered from 10:00 a.m. to 1:00 p.m. Allow at least 30 minutes;about 3/4 mile round trip. This is a self-guided tour. 
Monday-Wednesday, April 18-20 –WKU Research Symposium – park training center 
Celebrating the Diversity of Research in the Mammoth Cave Region is the theme of 56 presentations from academics, students, and government agencies. A complete schedule is posted at https://www.nps.gov/maca/learn/index.htm 
Saturday, April 23 – National Junior Ranger Day Learn outdoor skills such as orienteering, first aid, knot tying, water safety, and building a campfire. Skills like these are the foundation for a lifetime of adventures. All activities meet at the visitor center and each will last about 45 minutes. A special event patch or badge may be earned. 
9:30 a.m., Where Are We? Basic Orienteering 
9:30 a.m., The Birding Beat 
10:30 a.m., Beyond a Band-aid 
11:30 a.m., Knots to Know 
12:30 p.m., Safety on the Water 
1:30 p.m., Pioneer Children's Games 
1:30 p.m., Slither, Slink, and Slide 
2:30 p.m., Campfire Building - Tips and Tricks 
Sunday, April 24 –Park Rx Day 
G
et inspired to write your own prescription for a healthier you! Join us to learn about the benefits of exercising in natural places through short, informal talks throughout the day –then get out and enjoy the Park. Hit the woods for health! 
Note: cave tour requirements regarding white-nose syndrome (WNS) in bats: While there are no known harmful effects to humans, WNS is responsible for the death of millions of hibernating bats across the eastern United States since its discovery in 2006. WNS was found in Mammoth Cave in winter 2012-13. To minimize the spread of WNS fungus, all participants on cave tours must walk across bio-security mats to clean footwear immediately following the conclusion of their tour.