Date:
April 4, 2011
Contact:
Vickie Carson
, 270-758-2192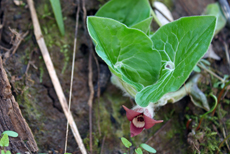 Come celebrate your national park during National Park Week, April 16-24. Mammoth Cave National Park will host several events geared toward nature-lovers, including Wildflower Day April 16 and Junior Ranger Day April 23. Free Mammoth Passage and Discovery cave tours will be offered throughout National Park Week.
"Get outside and enjoy yourself here at Mammoth Cave National Park," said Superintendent Patrick Reed. "Our staff have activities planned that line up perfectly with President Obama's America's Great Outdoors initiative -- to establish a conservation ethic for the 21st century and to reconnect Americans, especially young people, to their history, their culture, and the great outdoors."
Wildflower Day, April 16, offers a variety of easy wildflower walks, natural history hikes, and presentations by park rangers and local naturalists.
April 16 is also the park's Backcountry Summit workday from 9:00 a.m. to noon. Volunteers are needed (individuals or groups) from all users groups – hikers, bicyclist, and horsemen. Meet at Maple Springs Trailhead; bring gloves, insect repellent, water, and a snack. (For more information about the workday, call Volunteer Coordinator Eddie Wells at 270-758-2143.)
National Junior Ranger Day, April 23 has special programs for families and young children, including art, music, outdoor skills, and nature hikes. For 6-12 year olds, special Junior Ranger Day patches and certificates will be awarded to those participating in the activities.
"All of these events are offered to the public free of charge," said Ranger Leslie Price, who is coordinating National Park Week at Mammoth Cave. "Visiting the park is a healthy thing to do for yourself and your family. Mammoth Cave's trails and rivers offer a chance to exercise your body, rest your brain, and revive your spirit. The planned activities will help you get started."
The Mammoth Passage and Discovery cave tours require a walk down and up the hill below the Visitor Center, as well as 68 steps at the Historic Entrance. Visitors must pick up their free tickets at visitor center ticket office prior to tour times. Camping fees and fees for other tours of Mammoth Cave will not be waived on these days.
Descriptions of all activities are listed by date, time, meeting locations, walking distances and degree of difficulty on the park website at https://www.nps.gov/maca/planyourvisit/wildflowerday.htm. For further information, call the park at 270-758-2180.   
- NPS -