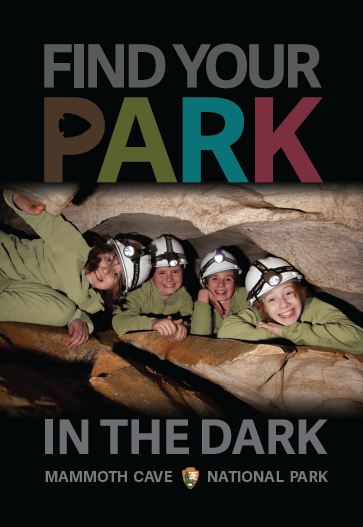 News Release Date:
April 9, 2015
Contact: Vickie Carson, 270-758-2192
MAMMOTH CAVE, Ky., April 9, 2015 – Mammoth Cave National Park joins parks, programs and partners across the country to encourage people to find their park and share their stories online at FindYourPark.com.   
Find Your Park
is the theme of National Park Week 2015, April 18-26, and a public awareness and education campaign celebrating the milestone centennial anniversary of the National Park Service in 2016 and setting the stage for its second century of service.
Find Your Park
invites the public to see that a national park can be more than a place – it can be a feeling, a state of mind, or a sense of American pride. Beyond vast landscapes, the campaign highlights historical, urban, and cultural parks, as well as the National Park Service programs that protect, preserve and share nature, culture, and history in communities nationwide.
"We invite the public to 'find your park' during Mammoth Cave's National Park Week events," said Superintendent Sarah Craighead. "Follow a ranger in search of bird calls and wildflowers. Join a workshop on nature photography or painting. Take a free cave tour, or bring the entire family out for a picnic. And just for fun, all week we will ask visitors to take a 'selfie' in front of a big map as they point to their own favorite national park, and hashtag it #FindYourPark." 
April 18 – Wildflower Day
All activities meet at the Visitor Center unless otherwise noted.
8:15-9:30 a.m., Let's Go Birding for Families 
8:30-10:15 a.m., Water & Wildflowers/Cedar Sink Hike – meet at the Cedar Sink Trailhead. 
10:30 a.m.-12:30 p.m., Ridge to River Wildflower Hike 
11:00 a.m.-1:00 p.m., The Art of Wildflowers for Families (supplies provided, wheelchair accessible) 
12:15-1:15 p.m., Heritage Walk (wheelchair/stroller accessible) 
1:30-4:00 p.m., Advanced Wildflower & Photography Walk 
2:00-3:00 p.m., Junior Ranger Nature Track 
April 18 &19 – Free cave tours: Mammoth Cave Discovery Tour and Mammoth Passage Tours Participants must pick up a free ticket in the visitor center before going on these tours. Both the Mammoth Cave Discovery Tour on Saturday and the Mammoth Passage Tour on Sunday require a walk down and up the steep hill below the visitor center, as well as 160 steps. Visit the Rotunda, one of the largest rooms, explore a vast canyon passageway, and learn about 19th-century saltpeter mining operations and the geologic origins of Mammoth Cave on each of these tours. 
Saturday, April 18 – Mammoth Cave Discovery Tour will be offered from 10:00 a.m. to 2:00 p.m. Allow at least 30 minutes;about 3/4 mile round trip. This is a self-guided tour. 
Sunday, April 19 – Mammoth Passage Tours will depart from the visitor center at the following times: 8:45, 10:15, 12:15, 2:00, and 4:30. The ¾-mile, 1¼-hour Mammoth Passage tour is limited to 40 people.
Saturday, April 25 – Junior Ranger Day Learn outdoor skills such as orienteering, first aid, knot tying, water safety and how to build a campfire. Skills like these can be the foundation for a lifetime of adventures. All activities meet at the visitor center and will last about 45 minutes. A special event patch may be earned. All events are wheelchair accessible with assistance.
9:30 a.m., Basic Orienteering 
10:30 a.m., Beyond a Band-aid 
11:30 a.m., Knots to Know 
12:30 p.m., Safety on the Water 
1:30 p.m., Pioneer Children's Games 
2:30 p.m., Campfire Building - Tips and Tricks 
Note: tour requirements regarding white-nose syndrome (WNS) in bats: While there are no known harmful effects to humans, WNS is responsible for the death of millions of hibernating bats across the eastern United States since its discovery in 2006. WNS was found in Mammoth Cave in winter 2012-13. To minimize the spread of WNS fungus, all participants on cave tours must walk across bio-security mats to clean footwear immediately following the conclusion of their tour.
www.nps.gov/maca 
The mission of the National Park Service is to care for America's 407 national parks and conserve the scenery and the natural and historic objects and the wild life therein and to provide for the enjoyment of the same in such manner and by such means as will leave them unimpaired for the enjoyment of future generations.