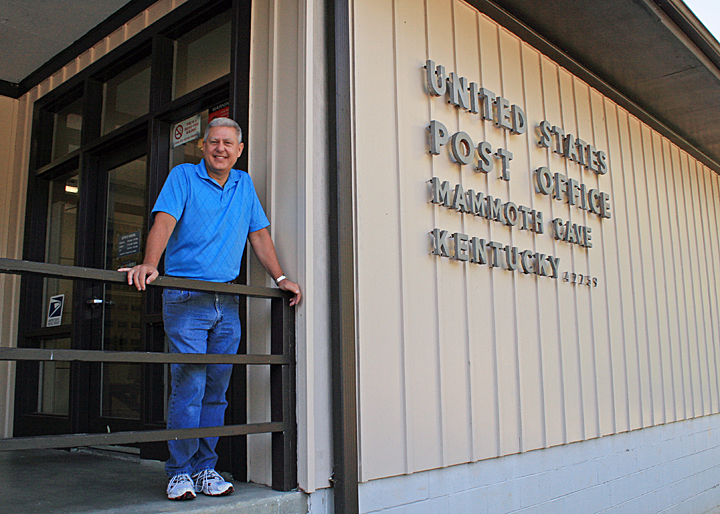 News Release Date:
August 3, 2012
Contact: Vickie Carson, 270-758-2192
(MAMMOTH CAVE, Kentucky - August 3, 2012) On July 31, Nick Tunks handed in his keys, climbed on his motorcycle and motored out of the park at midday for an impromptu lunch with his son, Kenny, and daughter, Meghan, in Bowling Green. It was his last day as postmaster at Mammoth Cave, a job he held for 20 years. 
"Nick will be greatly missed as our Postmaster and friend," said Acting Superintendent Bruce Powell. "His connection with Mammoth Cave goes beyond the U.S. Postal Service and back generations in his family. Nick's first jobs in the park were as a guide and ranger. His wife, an uncle, and two grandfathers also wore the National Park Service (NPS) uniform." 
Tunks began with the NPS in 1978 as a seasonal cave guide; the next year he was hired on as a permanent employee. In subsequent years he served as a law enforcement ranger and in resource management. During this time he also earned an Associate degree in general studies from Western Kentucky University 1983. 
In 1985, Tunks transferred to the U.S. Postal Service Bowling Green office as a carrier. He quickly moved up through the ranks as a supervisor and then as a district delivery specialist for central Kentucky. He was promoted in 1989 to assistant postmaster in Glasgow. 
When Tunks was offered the Mammoth Cave postmaster job in 1992, he jumped at the chance to be back in the park. The post office is small, serving the NPS offices, the Mammoth Cave Hotel, and a rural route of about 500 households. However, it was not a sleepy assignment; for many years Tunks was sent on training assignments and special projects that took him all across the country. 
"One project was evaluating the use of Segway vehicles for mail delivery," said Tunks. "First I had to master the art of maneuvering on two wheels, and then I was sent out to teach carriers and monitor changes in their efficiency. Over six months, I worked with carriers in Oklahoma where it is flat, San Francisco where the hills are steep, on long delivery routes in Memphis, and in the desert heat of Phoenix. In the end, there wasn't enough of a time savings to implement use of Segways." 
When the Wonders of America - Land of Superlatives stamp series was published in 2006, it included a stamp depicting Mammoth Cave, the longest cave in the world. At Tunks' suggestion, the park hosted a cancellation event inside the cave on the first day of issue. 
In recent years, Tunks' knowledge of computer equipment has been put to use in installing machines in area post offices and training employees. 
Tunks met and married his wife, Tina (Spainhoward), while they were both guiding in Mammoth Cave in 1984. They are natives of Edmonson County, and Tina is a middle school teacher with Edmonson County Schools. 
Tunks' grandfather Warner Tunks was a seasonal cave guide in Mammoth Cave in the 1960s; his step-grandfather Henry Cochran was also a seasonal guide in the 1960's. Tunks' uncle, Loyd Cook, was raised on Brooks Knob before the park was established and started his NPS career asthe lookout in the Brooks Knob fire tower. Cook retired as a district ranger at Mammoth Cave with 40 years of service. 
Upon his own retirement, Tunks' short-term plans are to ride his motorcycle and play with his grandson, Warner.
"It is good to know that we will work with Nick again soon as we plan the 2016 anniversary events for the park," said Powell. Tunks is a member of the Mammoth Cave National Park Association, which was instrumental in creating the park; Tunks is the Association's designee for 2016 planning. 
The year 2016 holds special significance at Mammoth Cave:
·       Mammoth Cave National Park was established in 1941, and will mark its 75th anniversary; ·       the National Park Service was established via the Organic Act of 1916, and will mark its 100th anniversary; and
·       cave tours began at Mammoth Cave in 1816, and 2016 marks the 200th year of tours through Mammoth Cave. 
www.nps.gov/maca