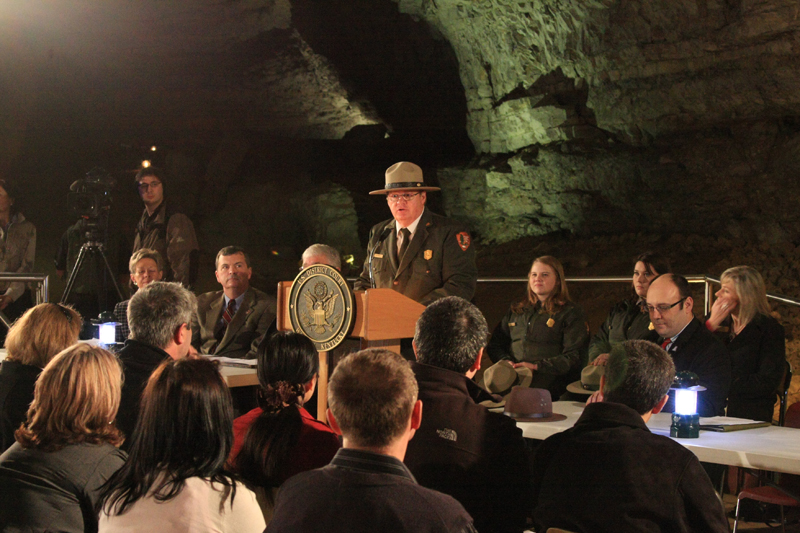 News Release Date:
March 15, 2011
Contact: Marilu Cabrera, 312-239-5930
Contact: Vickie Carson, 270-758-2192
Thirty-nine immigrants representing 19 countries from around the world became United States citizens on Friday, March 18 during a special naturalization ceremony - inside Mammoth Cave.
U.S. Magistrate Judge E. Robert Goebel presided over the ceremony. Mammoth Cave National Park Superintendent Patrick H. Reed and USCIS Louisville Field-Office-Director Geoff Verderosa addressed the new citizens, and USCIS Immigration Services Officer, Mark Cox presented the candidates for naturalization to the court. Although this is the first time USCIS has held a ceremony at Mammoth Cave National Park, the agency routinely hosts naturalization ceremonies at other national parks across the country.
Mammoth Cave National Park was established to preserve the cave system, including Mammoth Cave, the scenic river valleys of the Green and Nolin Rivers, and a section of hilly country typical of south central Kentucky. This is the longest recorded cave system in the world, with more than 390 miles explored and mapped. Mammoth Cave National Park was designated as a World Heritage Site in 1981, and as the core area of as International Biosphere Reserve in 1990.