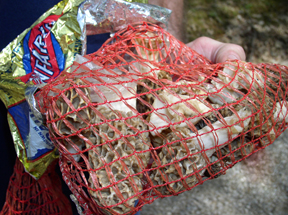 News Release Date:
March 28, 2011
Contact: Vickie Carson, 270-758-2192
Superintendent Patrick Reed reminds park visitors that mesh sacks are required when collecting mushrooms in the park.
"We initiated this requirement in 2007 and the public has been very compliant," said Reed. "I believe they are just as concerned about the sustainability of the morel population as we are. By using the mesh sacks to transport the collected mushrooms, spores can drop to the forest floor and continue to propagate the species. Collectors may be planting morels as they walk back to their vehicles."
The following is an excerpt from the Superintendent's Compendium regarding the collection of firewood, berries, nuts, and mushrooms within the park:
"Down and dead wood may be used for fuel at any designated campsite.

"The following fruits, nuts, berries, and fruiting bodies of mushrooms may be gathered by hand for personal use or consumption, in accordance with the noted size, quantity, collection sites and/or use or consumption restrictions. Commercial use is prohibited.

″Blackberries, raspberries, strawberries, grapes, and paw-paws – 1 gallon per person per day;

″Walnuts, hickory nuts, and buckeyes – 2 gallon per person per day;

″Morel mushrooms – 1 gallon per person per day;

″Non-native fruits – no limit.

"Any person gathering morel mushrooms will collect said mushrooms in a mesh sack, allowing for the distribution of spores throughout the forest as the person gathers more."
- NPS -