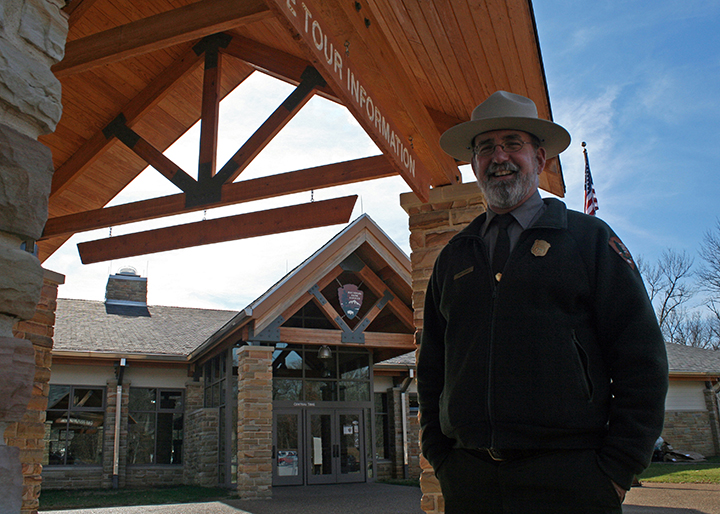 News Release Date:
November 19, 2012
Contact: Vickie Carson, 270-758-2192
MAMMOTH, Ky. - Now that the Mammoth Cave visitor center is complete, Mike Adams, chief of interpretation at Mammoth Cave National Park, will hang up his rangerr hat and retire. 
"When I came to Mammoth Cave, I remember thinking that the guides carried the monumental responsibility of conveying the entire story of the Park to visitors," said Adams. "There were no exhibits or visual aids to help people understand the cave. I am certain that people came and went from here without knowing of Green River or its underground tributaries. I had twenty years to think about how exhibits could enhance a guide's talk. Pulling the exhibits together hasn't seemed like work, but more like the fulfillment of a dream." 
"The new visitor center and its exhibits are a crowning accomplishment in Mike's career," said Superintendent Sarah Craighead. "Mike has been at Mammoth Cave since 1991, and planning and construction of the visitor center have consumed most of his time for the last three years. The outcome is tremendous. The building and exhibits will serve visitors for the next forty years." 
Adams started his National Park Service (NPS) career in 1973 when he was a college student at the University of California-Davis. He worked summers at Yosemite National Park while earning a bachelor's degree (1978) in environmental planning and management. In 1980, Adams gained full-time employment at Yosemite in Mariposa Grove where he explained the natural history and shared John Muir stories with visitors. 
"I think of my time at Yosemite as my formative years," said Adams. "I grew up in and around natural areas, but this is where I fell in love with national parks." 
In 1986, Adams moved east to Great Smoky Mountains NP, to Oconoluftee on the North Carolina side of the park. There he helped visitors understand the history of Mingus Mill and the Mountain Farmstead. 
For the last 21 years, Adams has served as the chief of interpretation at Mammoth Cave, managing a large staff of cave guides, a nationally recognized environmental education program, and more recently, the development of the new Park visitor center. 
Adams grew up in Van Buren, Mo., where his father, Dorsey Adams, now deceased, worked at Ozark National Scenic Riverway as a resource manager. His mother, Kathleen Adams, still resides in Hot Springs, Ark. He graduated from Van Buren High School in 1970, and attended Southwest Missouri State University (1970-1972), and Juanita College, Pa., (1972-1973).  
Adams has three grown children, from a previous marriage, and five grandchildren. He is married to Julie Gee; they have resided in Cave City for many years, where they were active members at the Cave City Methodist Church. Julie is presently living in Athens, Ohio, teaching nature interpretation at Hocking College. Adams will join her there upon his retirement. 
"It has been a privilege to work at Mammoth Cave," said Adams. "It is a great Park staffed by good people." 
www.nps.gov/maca