Mammoth Dome Tower is new and improved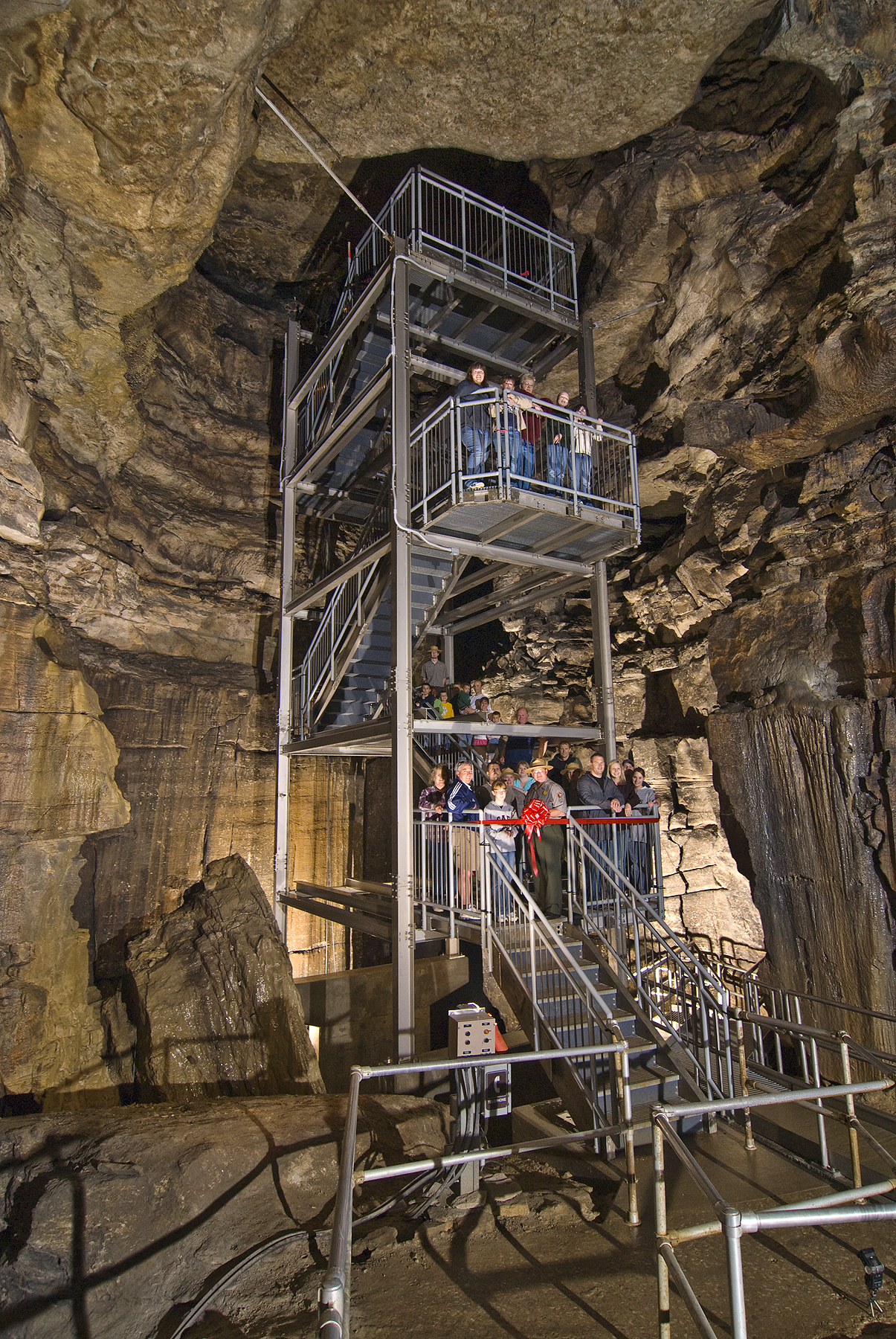 News Release Date:
July 10, 2008
Mammoth Cave National Park completed a unique fixer-upper project this year – replacing the Mammoth Dome tower and stairs.  The 53-year-old, 65-foot tower is a connector route between the lower-Historic cave trail and the upper-Historic cave trail, allowing the 2-mile, 2-hour Historic tour to be a loop route with minimal retracing.  The new stainless steel structure serves the same purpose, but is broader and more visitor-friendly.
"This was a huge undertaking and a tremendous accomplishment for the park," said Superintendent Patrick Reed.  "We are very pleased with the finished product.  It is more than just a stairway; it greatly enhances the visitor's experience."
Any construction project inside Mammoth Cave is a story of logistics.  Let's start with the list of materials: 
1,350 eighty-pound bags of concrete;
3,500 stainless steel bolts; and
35,000 pounds of structural steel, varying in length from 2 to 21 feet.
Materials were trucked to the cave entrance, hand-carried down 60 steps, loaded on a custom-made "cave wagon", wheeled through large-to-increasingly-smaller passageways for over a quarter mile, then maneuvered through Crevice Pit (the size of a standard doorway) and lowered 200' to the floor of Mammoth Dome.
"Moving the materials was a challenge and terribly time consuming," said Steve Kovar, facility management chief, who oversaw the work.  "And, the contractor had to redesign the lower steps to fit the cave walls and overhanging rock, and modify the tower foundation to avoid displacing a 20-foot boulder.  Its completion is truly monumental."
During construction, personnel time averaged 15 people per day, in 10-hour shifts.
Before the contractor, Lyca Construction, Inc., of Louisville, Ky., could even start the new construction, the old tower and concrete steps had be to dismantled and removed – up and out through Crevice Pit, wheeled on the cave wagon, and carried up the 60 steps at the entrance.  During the four days of demolition in January 2008, the crews worked two 10-hour shifts per day. 
"Mammoth Dome is an awesome room," said Mike Adams, chief of interpretation at the park.  "The old tower was merely a conveyance.  The new tower provides an amazing view of the cave.  It will 'wow' our visitors.  The larger staircase was designed with safety in mind, too.  Previously, if we had to carry someone out of the cave, we had to haul a stretcher up the steps with the head or foot extending beyond the handrail.  A stretcher will now fit between the rails."
The $2 million project began January 2008 and was completed April 15, 2008.  
- NPS -
Last updated: April 14, 2015