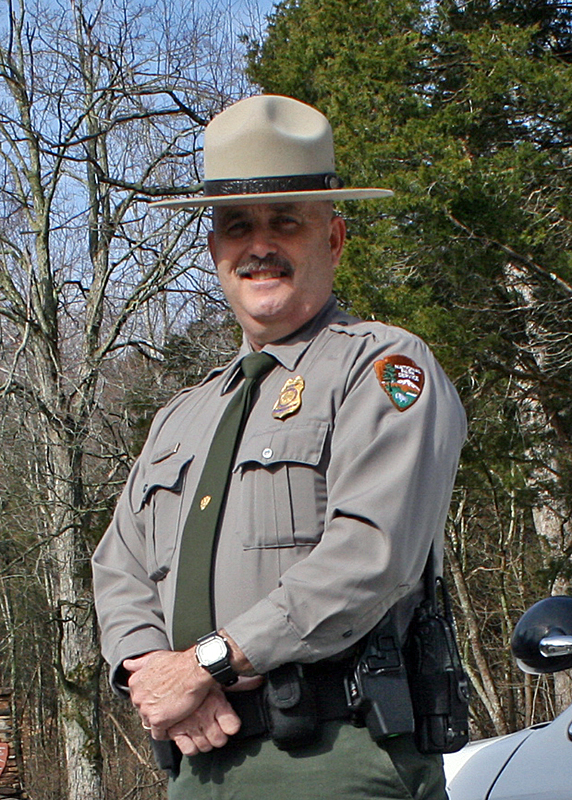 News Release Date:
February 24, 2012
Contact: Vickie Carson, 270-758-2192
(MAMMOTH CAVE, Kentucky) Superintendent Patrick Reed announced today that he has selected Brad McDougal to be the Park's Chief Ranger, overseeing the Park's Division of Law Enforcement and Emergency Services. 
"Brad has been a law enforcement ranger at Mammoth Cave for twenty-nine years," said Reed. "He has served with distinction, even achieving the Valor Award, the Department of the Interior's most distinguished honor. Brad has served as acting Chief Ranger for extended periods on several occasions. I have great confidence in his skills, experience and abilities as he begins this new chapter in his career as the Park's Chief Ranger."
McDougal started his NPS career in 1980 as a seasonal ticket seller at Mammoth Cave. In 1981, he was hired as a park technician, his duties split between interpretation and resource management. The next year he moved into visitor protection and law enforcement.
In his following years at Mammoth Cave, McDougal moved up through the ranks: in 1994, he became the Park protection specialist; in 1996, a special agent; in 2005, he was selected as the Park's supervisory ranger of operation within the Division of Law Enforcement and Emergency Services.
McDougal is a lifelong resident of Edmonson County. He graduated from Edmonson County High School in 1976, and earned an Associate Degree from Western Kentucky University in 1982.
He and his wife, Pat, a retired Edmonson County school teacher, reside in rural Edmonson County not far from the park boundary. They have one daughter, Elizabeth, and one grandson, Jack Swayne.
When asked about his hobbies, McDougal, a proud grandpa, replied, "Golf and babysitting."
- NPS -