Mammoth Cave Back Country Horsemen commit to park trail work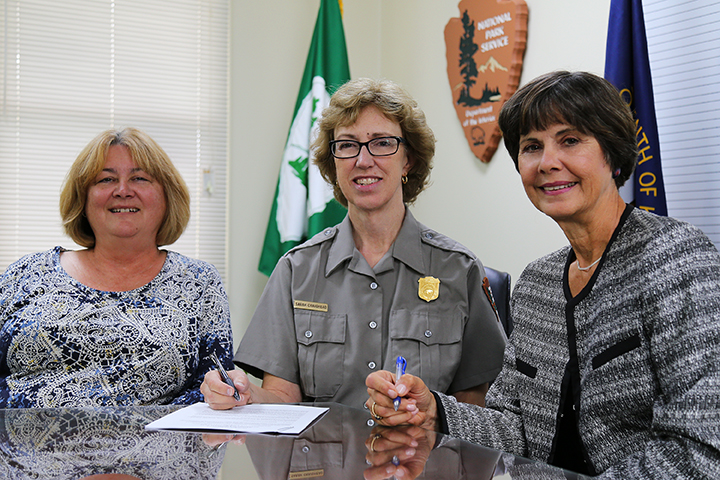 News Release Date:
October 23, 2014
Contact: Vickie Carson, 270-758-2192
MAMMOTH CAVE, Ky., October 23, 2014 – On October 15, 2014, Mammoth Cave National Park Superintendent Sarah Craighead signed an agreement with representatives of the Mammoth Cave Back Country Horsemen, a chapter of the Kentucky Back Country Horsemen, as a way to improve maintenance of the park's horse trails.
"Our agreement with the Mammoth Cave Back Country Horsemen will greatly boost the care and condition of the park trail system," said Craighead. "Funding for trail maintenance continues to be a management challenge and concern. Monitoring shows the physical condition of the trails has significantly deteriorated in the last five years, accentuated by severe erosion, mires and trail braiding. Help from trail users is essential to keeping the trails open, enjoyable and safe." 
The agreement states the park and the Mammoth Cave Back Country Horsemen will meet biannually to develop and review an annual work plan, and discuss organized workdays. The park will provide tools and materials. Volunteers who operate chainsaws must undergo specific training and conduct operations in accordance with the park's chainsaw plan. 
"Park staff constantly struggle to clear downed trees across trails," said Craighead. "We are taking a new approach in allowing volunteers to operate chainsaws in the park, after they have received the required training." 
"This agreement is an important first step in what we hope will be a long-term partnership between Mammoth Cave National Park and back country horsemen in Kentucky," said Ginny Grulke, chair of the Kentucky Back  Country Horsemen. "We look forward to working as volunteers with the Park staff to ensure that trails are maintained and preserved for the enjoyment of all Mammoth Cave visitors." 
Mammoth Cave National Park has nearly 85 miles of trails.  All are open to hikers, about 56 miles are designated for horse use, and 22 miles for bicycling. 
The inaugural annual planning meeting is scheduled for December 18, to set a work plan for 2015. 
www.nps.gov/maca 
Last updated: April 14, 2015