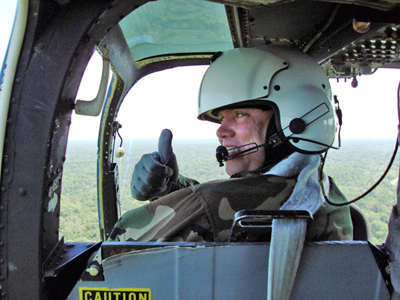 News Release Date:
October 21, 2010
Contact: Vickie Carson, 270-758-2192
On August 26, Ranger David Alexander made the maiden voyage of a Mammoth Cave officer flying in the Kentucky State Police (KSP) helicopter as they searched for marijuana fields in and around Mammoth Cave National Park.
"We now have an agreement in place with Kentucky State Police that will allow park law enforcement officers to be on board reconnaissance flights," said Superintendent Patrick Reed. "Our rangers know the park and the suspicious areas within the park. This partnership will increase our ability to find and destroy marijuana."
"KSP approached park managers in February with the idea of flying over the park as a joint operation," said Alexander. "It makes their patrols and ours more efficient. This first joint flight focused on marijuana eradication. In the future we plan to use the overflights to look for resource damage and boundary encroachments."
No marijuana was found in the park on this flight. Rangers first found cultivated marijuana on the park back in the 1980s, and have since looked for it every year.
"In flying over the private property around the park, we found a total of 60 marijuana plants in the Lincoln area and in southern Edmonson County," said Trooper Charles Swiney, public information officer for the Bowling Green KSP Post.
Park rangers will reward up to $1,000 to anyone who provides information that will lead to a successful prosecution for drugs or other crimes on park lands: contact Ranger Alexander at 270-758-2122 or 270-646-7241, or leave a recorded message on the Park Watch line at 888-219-1599. Information provided will be kept in strictest confidence and those calling may choose to remain anonymous.
Officers assisting with the August 26 overflight included: Trooper Joel Huff, KSP-Hart County; Trooper Terry Alexander, KSP-Bowling Green; Lt. John Clark, KSP-Coordinator; Mammoth Cave Rangers Josh Clemmons and Jonathan Bledsoe served as ground crew.
- NPS -