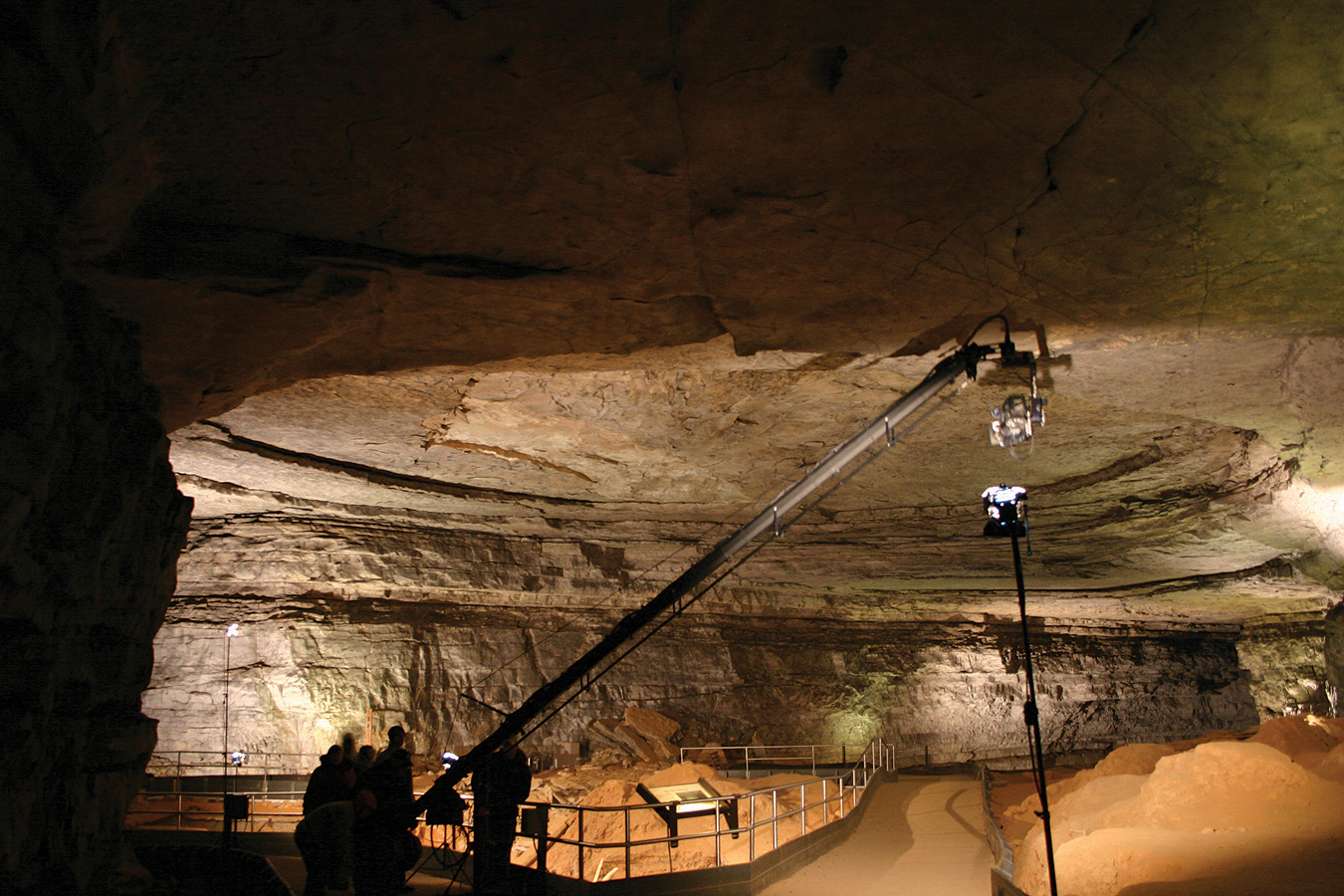 News Release Date:
September 16, 2009
On Sunday, October 4, thousands of southcentral Kentuckians will see Mammoth Cave National Park as they never have before, and they won't have to leave home to do it.  WKYU-PBS, Channel 24, will broadcast a virtual visit to the far reaches of the park in a one-hour high-definition documentary called Mammoth Cave: A Way to Wonder.
"The staff at WKYU-PBS presented the park with a rare opportunity and we jumped at it," said Superintendent Patrick Reed.  "The program reveals the story of the cave, and reminds us of why this place was set aside as a national park.  We are very grateful to the Friends of Mammoth Cave National Park, Bluegrass Cellular, and the Kentucky Department of Tourism, all of whom provided funding for the project."
The idea arose from conversations between the station's Emmy Award winning-producer Cheryl Beckley and the park's information officer, Vickie Carson in August 2008.
"Several things came together that led us to doing this documentary," said Beckley, "like the convergence of the Ken Burns series on the National Park Service, the new six-mile  lighting system in Mammoth Cave, the 20th anniversary of WKYU-PBS, and the advent of HD technology.  It was the right time for a project like this to happen."
"There is always a need to find a better way to explain the cave and share its beauty," said Carson.  "Even though the cave is the major feature of the park, it's hidden and dark and mysterious.  The cave is a delicate, foreign environment – connected to the surface world, but very different from it.  Our task is to both protect and explain it." 
Beckley developed and directed the program, which contains four segments:  history and prehistory; science and research; the park's power to inspire; and compelling human stories of the cave and parkland.  Each segment features interviews that together convey a holistic picture of the park.
On screen, the park is revealed through the discerning eye of Emmy Award winner David Brinkley, WKYU-PBS director of photography for the project.
"Mammoth Cave: A Way to Wonder is our first major undertaking in high-definition, and it has pushed us to the limit in terms of our methods and our physical and mental state of being," said Brinkley.  "We rappelled into the cave on ropes, lugged heavy equipment for miles underground, tromped through the deep woods, and suffered through heat, cold, rain and ticks."
Beckley, Brinkley, and a crew of three to five staff and students traveled to the park repeatedly over 12 months to video-tape eyeless fish, delicate gypsum crystals, cave tours, kayakers, sunsets, spring wildflowers, fall color, endangered bats, and waterfalls both above and below ground – in all more than 60 hours of footage and interviews.
"The videography is outstanding," said Beckley.  "Every day we shot was better than what we imagined it would be.  The people we interviewed related their unique connections to Mammoth Cave and brought it to life."
"The experience that the broadcasting students gained is matchless," said Beckley.  "They hauled equipment, set the lights, and monitored recording levels at each of the dozens of remote locations where we shot.  Some days we would drive home covered in cave mud, but the students were always anxious to come back for more."
America's Best Idea, Ken Burns' 12-hour series on the National Park Service will air on WKYU-PBS Channel 24 and KET September 27-October 3.  Mammoth Cave: A Way to Wonder will air on WKYU-PBS Channel 24 on October 4 at 8:00 p.m., and then again at 9:00 p.m.
"The National Park Service byline, 'Experience Your America,' encourages people to get into parks and personally discover the American story," added Superintendent Reed.  "Mammoth Cave: A Way to Wonder takes the cave to the public.  Whether it's a favorite passage along the Historic Tour, or a remote cave stream only accessible by rope, Mammoth Cave: A Way to Wonder reveals Mammoth Cave's untold stories via high definition footage and personal stories.  It is an irresistible invitation to an unforgettable place."
- NPS -