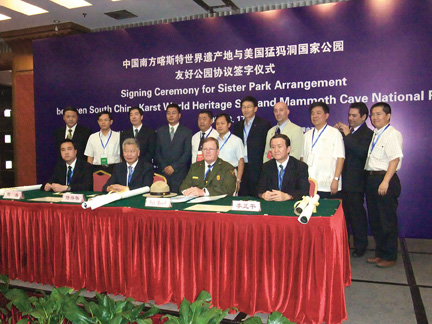 News Release Date:
September 2, 2009 Superintendent Patrick Reed has just returned from the far side of the world. Reed traveled to China, specifically to the South China Karst World Heritage Site, to establish a sister park arrangement between Mammoth Cave National Park World Heritage Site and Shilin Stone Forest National Park, Libo Zhangjiang National Park, and Wulong National Park (that comprise the South China Karst World Heritage Site). 
"Mammoth Cave is the longest cave in the world," Reed stated, "and most of the park's karst features are underground. But at Shilin Stone Forest, most of the washed and eroded rock, typical of karst landforms, is on the surface. The Stone Forest is fascinating and known worldwide for its sheer limestone pinnacles rising almost perpendicular to the ground."
Reed and Chinese officials took part in two signing ceremonies: an informal signing of the sister-park agreement was held at Shilin Stone Forest National Park near Kunming, in southwest China's Yunnan province; and a formal ceremony was held in Beijing.
While in Kunming, Reed and several others of the U.S. delegation also participated in a water quality conference, organized through the U.S. Agency for International Development (USAID) and Western Kentucky University (WKU). Groundwater quality is of great concern in karst areas, where delicate cave ecosystems can be polluted by runoff from highways, development, and agricultural practices.
"Water quality is one of the areas where we share common interests with our sister parks in China," said Reed. "Through this conference, and extensive prior work by Western Kentucky University faculty and staff, we have already begun to share practical information to improve water quality in China. In the future we will exchange best management practices and techniques, as well as lessons learned, science and research, data, technology and training."
Others presenting at the conference included: Dr. Chris Groves, director of WKU's Hoffman Environment Research Institute and the China Environmental Health Project; Hoffman Institute staff members Pat Kambesis, Lee Anne Bledsoe and Priscilla Baker;
Rudy D'Alessandro, NPS Office for International Affairs, Washington, D.C.; Dr. Rickard Toomey, director of the Mammoth Cave International Center for Science and Learning; and WKU students Chrissie Hollon and Erin Lynch. WKU photojournalism faculty members James Kenney and Tim Broekema documented WKU's continuing work in China and the Sister Park Partnership ceremonies.
"Although WKU's cooperative efforts with Mammoth Cave go back decades," said Groves, "these interactions raise this to a whole new level and exemplify WKU's goal of developing international reach."
D'Alessandro has assisted in establishing other sister park arrangements in the National Park Service.  "Sister-park relationships are no- or low-cost frameworks for an exchange of best practices and lessons learned in national parks management," said D'Alessandro. 
"It was also a great honor to have American Consul General David Brown from Chengdu, China, participate in the signing ceremony at Shilin Stone Forest, and State Department representatives from the U.S. Embassy participate in the Beijing ceremony," D'Alessandro added.
At the Beijing ceremony, Reed stated: "I am proud to be here on this auspicious day to celebrate the pairing of our two World Heritage Sites, which preserve some of the worlds most spectacular, scenic and scientifically important karst landscapes." 
Now that he is back in the United States, Reed is anxious to put the partnerships into practice. "Mammoth Cave National Park is grateful for the outstanding partnership we have with Western Kentucky University," said Reed. "We look forward to continuing our work with WKU and our new Chinese Sister Parks in promoting international cooperation and our combined efforts to protect these magnificent World Heritage Sites."
- NPS -