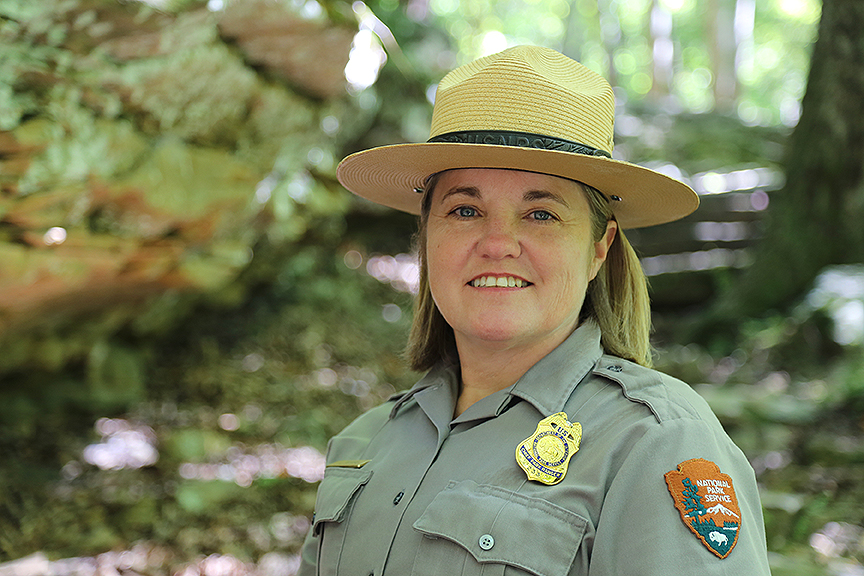 News Release Date:
September 24, 2014
Contact: Vickie Carson, 270-758-2192
MAMMOTH CAVE, Ky., September 24, 2014 –Lora Peppers already feels at home at Mammoth Cave National Park even though she assumed her new post as chief ranger only in May. Why? Peppers grew up in the hills and hollows of Edmonson County, and is pleased to be back home again.
"Lora's first job was here at Mammoth Cave as a student aid working with the cave guides," said Superintendent Sarah Craighead, herself a native of the Mammoth Cave region. "She quickly switched to law enforcement and moved up in the ranks as she transferred from park to park over the span of her career. Now Lora has returned as the park's top law enforcement officer, and to enjoy the landscapes and people she grew up with." 
Born in Tampa, Florida, Peppers' family came to Edmonson County, Kentucky, when she was in second grade. In 1985, she graduated from Edmonson County High School and started working at the park the same year. She attended Western Kentucky University, working summers at Mammoth Cave, and earned a bachelor of science degree in park management (1990). 
"At that time the Park Service offered a co-operative education program to college students, which led to full-time employment," said Peppers. "I already had a taste of law enforcement at Mammoth Cave thanks to a detail with that division. My first permanent position was at Castillo de San Marcos National Monument in St. Augustine, Florida, in 1990, and I received my federal law enforcement commission while I was there." 
After graduating (1991) from the Federal Law Enforcement Training Center in Glynco, Ga., Peppers was stationed at Fort Matanzas, a unit of Castillo de San Marcos. In 1992, she transferred to the Shark Valley district of Everglades National Park, and moved to the Flamingo District in 1994. 
"My work at Flamingo as a backcountry ranger was fascinating," said Peppers. "I tracked manatees, monitored archaeological sites, and tagged crocodiles and alligators. I found the first crocodile nest to be seen on East Cape Sable in 100 years." 
She left the Everglade swamps for Great Smoky Mountains National Park in 1997, to deal with bears and Cades Cove crowds. In 1999, Peppers transferred to Shenandoah National Park as a patrol ranger, took a one-year detail as an investigator, and accepted the post of Central-district ranger in 2001. 
As the chief ranger at Mammoth Cave, Peppers oversees all law enforcement, emergency services and response, and search and rescue. 
"Out of all the responsibilities that fall within the Law Enforcement and Emergency Services Division, the one I am most passionate about is resource protection," said Peppers. "The resources –that is, the caves, river, and forest habitats – are what attract visitors to Mammoth Cave. To damage or take from that resource diminishes a visitor's experience, as well as their appreciation for the park and surrounding area." 
While at Shenandoah National Park, Peppers married Greg Roth, who is now a retired ranger. They have two golden retrievers, Deuce and Cooper. When not on the job, Peppers enjoys traveling and quilting. 
"It's great to be back home," said Peppers. "I feel like I have a built-in support system. I look forward to making new acquaintances and renewing old friendships." 
www.nps.gov/maca