Joy Medley Lyons hangs up her flat-hat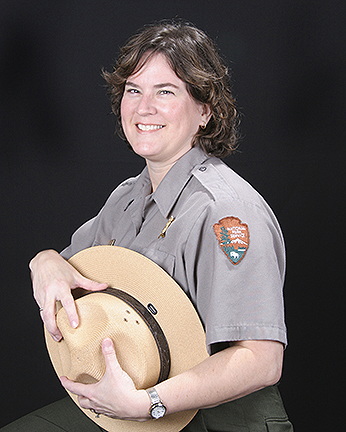 News Release Date:
August 2, 2013
Contact: Vickie Carson, 270-758-2192
MAMMOTH CAVE, Ky., August 2, 2013 – Joy Medley Lyons, Mammoth Cave National Park ranger, retired on July 27, finishing a career of 33 years of service to the American people.  For most of her career, Lyons supervised and mentored the Park's guide force.
"Mammoth Cave is known across the National Park Service as a good place to start a career," said Superintendent Sarah Craighead.  "Joy has hired and trained literally hundreds of new rangers, and has strived to increase the diversity of our workforce."
Also a writer and historian, Lyons authored Mammoth Cave: The Story Behind the Scenery, a seminal work that has for years marked many visitors' first in-depth exploration of the world's longest known cave.  First published in 1991, the book remains in high demand as a signature item for visitors in the park's bookstore.
At the 2007 Kentucky History Awards, the Kentucky Historical Society presented Lyons with its Award of Merit for Publication for her much-discussed Making Their Mark: The Signature of Slavery At Mammoth Cave, on the African-American history of Mammoth Cave.  The book also brought recognition to Lyons as the Southeast Regional Interpreter of the Year (2007) from the National Association of Interpretation.
An Owensboro, Ky., native, Lyons, and husband David, make their home in Park City.  In 1994, she initiated a preservation project in Park City that led to the formation of Bell's Tavern Historical Park.  For nearly 20 years Lyons has led local volunteers in preserving and developing this unique historic site along the route of the Louisville & Nashville Railroad.
In 1980, Lyons earned her B.A. in English and creative writing from Western Kentucky University.  Further studies in American history and folk studies merged naturally with Joy's lifelong love of writing, giving her a perspective and a voice to use in helping to preserve the nation's cultural and natural heritage; the National Park Service would provide the opportunity.
The summer before her senior year of college, Lyons began working at Mammoth Cave as a seasonal park aid in 1979.  By 1981 she would land a permanent position as a personnel clerk, and would diversify her experience with duties in the campground.  In 1982, she took a position as a park interpreter, guiding and later supervising the guides who led thousands of visitors into Mammoth Cave each year.  In 2004, Lyons received a promotion to her present position as Chief of Program Services for the Park's Division of Interpretation.
Lyons hired and trained a generation of Mammoth Cave guides, thus leaving a living imprint on a place whose guides have helped make memorable for nearly two centuries.  While her words will carry on at Mammoth Cave after her departure as her books continue to be read, her real legacy is in the way stories will still be told mouth-to-ear in shadowy chambers where the past lives on and traditions die harder than echoes along an underground river.
"I hope my legacy at Mammoth Cave National Park to be one of conducting original research and incorporating it into interpretive programs," said Lyons.  "Guides don't merely imitate other guides, from one set of lips to another set of ears.  New employees may start out that way, but they are expected to read, research, corroborate and communicate with fellow workers to promote stewardship of the park to our visitors."
www.nps.gov/maca
Last updated: April 14, 2015