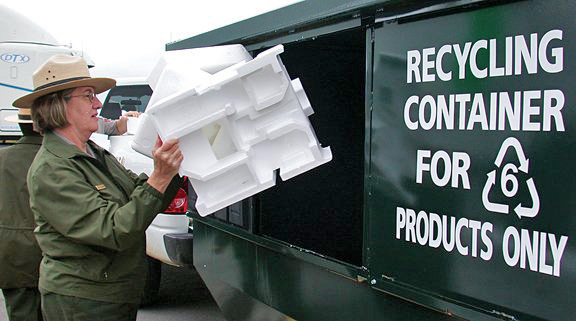 News Release Date:
October 20, 2009
In partnership with the Dart Corporation, Mammoth Cave National Park's Integrated Solid Waste Alternative Plan (ISWAP) hit a bull's-eye on its first target – to increase its already hefty recycling program.   
On October 8, park staff deposited a truck-load of #6 recyclable polystyrene foam – packing material, cups, picnic-ware, and take-out boxes – at the Dart facility in Horse Cave, Kentucky.  Dart, a manufacturer of foam products, established the first foam recycling drop-off in the state, the corporation's 8th foam recycling center nation-wide.  Mammoth Cave National Park had the honor of cutting the ribbon and being the first to use the new service.
Earlier this year, Dart representatives contacted members of Mammoth Cave's Environmental Management Team to take part in the initiation ceremony. 
"We saw this event as being good for the park, but also as a good opportunity to promote recycling in the communities around the park," said Mark Rich, the park's safety officer and chairman of the Environmental Management Team.  "In the park we recycle everything we can and we encourage our neighbors to do the same."
"Dart has made it possible to divert foam from area landfills and allow it to be recycled into new products, such as baseboards and moldings," said Park Superintendent Patrick Reed. "This echoes the intent of our ISWAP plan that we have begun implementing this year."
Mammoth Cave also recycles office paper, newsprint, various plastics, glass, scrap metal, wooden pallets, aluminum, paperboard, cardboard, fluorescent tubes, batteries, used oil, antifreeze, and building materials.  With its concessionaire Forever Resorts, the park shares a cardboard compacter and a plastic baler – these two devices alone have greatly reduced the amount of garbage produced in the park and the cost for its removal. 
The park's solid waste plan also includes action items to use only green products during meetings and conferences; explore composting; provide water filters and pitchers to offices to decrease use of bottled water; install hand dryers in offices; and continue to increase recycling.
- NPS -