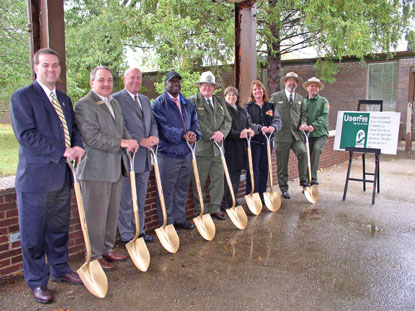 News Release Date:
October 25, 2007
VisitorCenterRenovation Groundbreaking
(MAMMOTH CAVE NATIONAL PARK – October 24, 2007) Beginning this week, part of Mammoth Cave's 44 year-old visitor center will be coming down to make way for a $5.9 million project, the first phase of the visitor center's renovation.  The public joined park staff on October 23 to break ground for the project.
"We are excited to get started on this project," said Superintendent Patrick Reed.  "Under the Federal Lands Recreation Enhancement Act, we've been banking our fee revenue for four years as we developed the plans.  It has finally all come together."
Following the groundbreaking, Phase 1 demolition and construction will transform the old administration building into space for cave tour ticket sales and modern restrooms.  The breezeway will become a spacious lobby.  Martin Construction Company of Louisville was awarded the contract.
The Federal Lands Recreation Enhancement Act (previously the NPS Fee Demonstration Program) allows National Park Service areas to retain 80 percent of their collected fees to be used for infrastructure improvements.  The park must accumulate the monies needed for each phase of the visitor center before construction can begin.
Phase 2 of the visitor center renovation is scheduled to begin following completion of Phase 1 and as funding is available.  Phase 2 will convert the present day visitor center into exhibit space, offices, and a larger books sales area.
When complete, the new visitor center will be a focal point for area tourism and a showplace for sustainable design.  "The visitor center will be built to the silver standard of LEED certification, meaning it will be extremely energy efficient and easy to maintain.  All building materials, and the plumbing, lighting, and heating/cooling systems will be green."
LEED, or Leadership in Energy and Environmental Design, is a program administered by the U.S. Green Building Council.  The LEED Green Building Rating System™ is the nationally accepted benchmark for the design, construction, and operation of high performance green buildings.
Caption:  After six inches of rain in two days, Mammoth Cave NP Supt. Patrick Reed opted to commemorate the groundbreaking rather than actually shovel into muddy ground.  With shovels in hand are:  Daniel London, representative of Congressman Ron Lewis; Jim Askins, representative of Senator Jim Bunning; Larry Cox, representative of Senator Mitch McConnell; Kofi Frempong, of Martin Construction Company; Supt. Reed; Sherry Rascovar, senior vice president of Parsons-Brinkerhoff; Lydia Creager, NPS project manager; Mike Adams, Mammoth Cave chief of interpretation; and Steve Kovar, Mammoth Cave chief of facilities management.