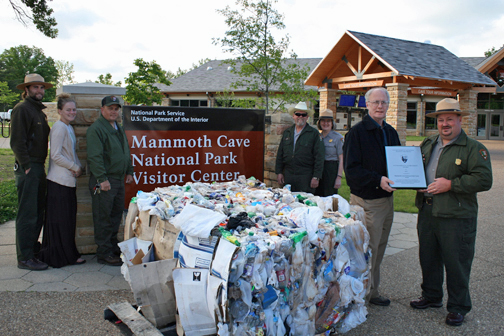 News Release Date:
May 19, 2011
Contact: Vickie Carson, 270-758-2192
Superintendent Patrick Reed announced that the park's Green Team has been awarded the 2010 National Park Service Environmental Achievement Award. Deputy Regional Director Gordon Wissinger came to the park on May 17 to present a plaque to the team members.
"Mammoth Cave is honored to have been chosen to receive this award," said Reed. "Our Green Team is an interdisciplinary group of employees who share a great passion for the environment. They strive to make park operations cleaner and eliminate waste – their ideas have made a big difference in what we are recycling versus what is hauled away to a landfill. Their work is impressive."
The NPS 2010 Environmental Achievement Award in Waste/Pollution Prevention and Recycling recognized the Team's 2009 efforts, which included:
In park offices and break rooms, the Green Team installed water purification systems or provided filtered pitchers to reduce the number of water bottles employees used.
The Green Team worked with the Dart Corporation and G & R Reclamation in Horse Cave, Ky., to greatly expand the park's recycling program. Dart established a program to recycle polypropylene (#5) and polystyrene (#6) plastics. Dart is a major producer of these products and invited the park to be the first participant in its new recycling program. G & R Reclamation recycles plastics (#1 through #7), computers, glass, aluminum, tin, newspaper, wood pallets, paperboard and shredded office paper. 
The Team introduced new waste reduction activities and educated park staff on ways to eliminate solid waste before it is generated; web sites such as www.catalogchoice.org remove households and businesses from junk mailing lists.
Team members demonstrated examples of household composting.
"The park's concessionaire, Forever Resorts, is an active member of the Green Team," said Mark Rich, park safety officer and leader of the Green Team. "Forever Resorts and the park work together to manage all recyclable items, including, glass, paper, plastic, aluminum, copper, steel, wood pallets, batteries, used fluorescent tubes, and cardboard. The most impressive part of this partnership is the operation of a cardboard compactor and a plastics baler, two pieces of equipment that have greatly reduced the amount of garbage the park and its visitors produce each year."
Forever Resorts purchased the cardboard compactor, and shares it with the park. The NPS (through the Southeast Regional Environmental and Sustainability Program) purchased the plastics baler, and shares it with Forever Resorts. In 2009, this partnership resulted in more than 31 tons of solid waste being diverted from a landfill, and recycling 4,753 pounds of plastic, and 58,000 pounds of cardboard.
In total in 2009, Mammoth Cave National Park recycled 73 wood pallets; 1,089 pounds of clear glass; 347 pounds of brown glass; 3,224 pounds of office paper; 2,823 pounds of newspaper; 19,031 pounds of steel; 4,753 pounds of plastic; 510 pounds of aluminum cans; 8,820 pounds of scrap metal; 471 pounds of copper; and over 58,000 pounds of cardboard.
"Reduce, reuse, recycle – the Green Team employees take those words to heart," added Reed.
Present in the photo are: (l to r) Josh Johnson, Brandi Button, Scotty Powell, Chester Stark, Cheryl Messenger, Deputy NPS Regional Director Gordon Wissinger, and Mark Rich. Other Green Team members, not present, include: Josh Clemons, Joel Gillespie, Jon Green, Johnny Merideth, Rick Olson, and Forever Resorts Asst. General Manager Sarah Martin.
- NPS -