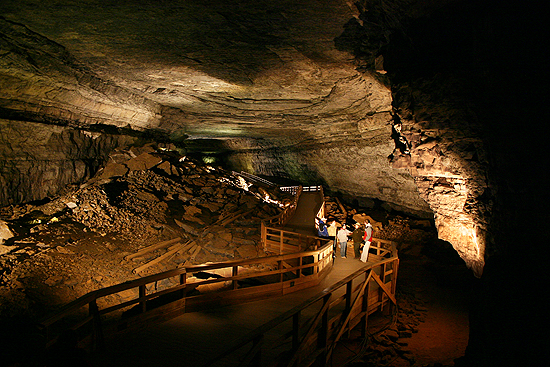 News Release Date:
June 10, 2009
Contact: Vickie Carson, 2707582192
(MAMMOTH CAVE NATIONAL PARK – June10, 2009)  All across the country this summer, national parks are dropping entrance fees on three weekends:  June 20-21, July 18-19, and August 15-16.  Though Mammoth Cave NP does not charge an entrance fee to the park, Superintendent Patrick Reed is embracing the spirit of the Service-wide order by offering self-guided Mammoth Cave Discovery Tours and guided Mammoth Passage Tours free of charge on these dates.
"The goal is to offer visitors the opportunity to reconnect with the grand nature and history preserved in national parks, during these tough economic times," said Superintendent Patrick Reed.  "It's a great idea and we applaud it.  Our visitors will just need to pick up a free ticket and then start their adventure."
Visitors must pick up their free tickets at visitor center ticket office prior to tour times.  For the Discovery tour, visitor may pick up tickets between 10:00 a.m. and 2:00 p.m. CT, and then walk to the Historic Entrance to begin their self-guided tour.  The guided Mammoth Passage tours will depart from the visitor center at 9:15 a.m., and at intervals after 3:00 p.m., after the Discovery tour closes.
The Mammoth Cave Discovery Tour and Mammoth Passage Tour both enter the cave at the Historic Entrance and follow approximately the same route, including Houchins Narrows, the Rotunda, nitre mining artifacts, Audubon Avenue, and Rafinesque Hall.  These are some of the mammoth passages for which the cave was named.
Being a self-guided tour, the Mammoth Cave Discovery Tour gives visitors the freedom travel at a brisk walk or a slow stroll.  Allow at least 30 minutes; the tour distance is ¾ mile round trip from the visitor center.  Ranger guides are stationed along the route inside the cave to answer questions.
The guided Mammoth Passage tour is ¾ mile long and lasts about 1¼ hours.
Camping fees and fees for other tours of Mammoth Cave will not be waived for these weekends. 
Check out all free NPS opportunities at
https://www.nps.gov/findapark/feefreeparks.htm.
The NPS has also established a website listing family fun summer activities, at
https://www.nps.gov/pub_aff/parks2009/index.htm
.
"National parks are noted as being America's best idea," added Reed.  "This summer the fee-free weekends make them even better."
- NPS -