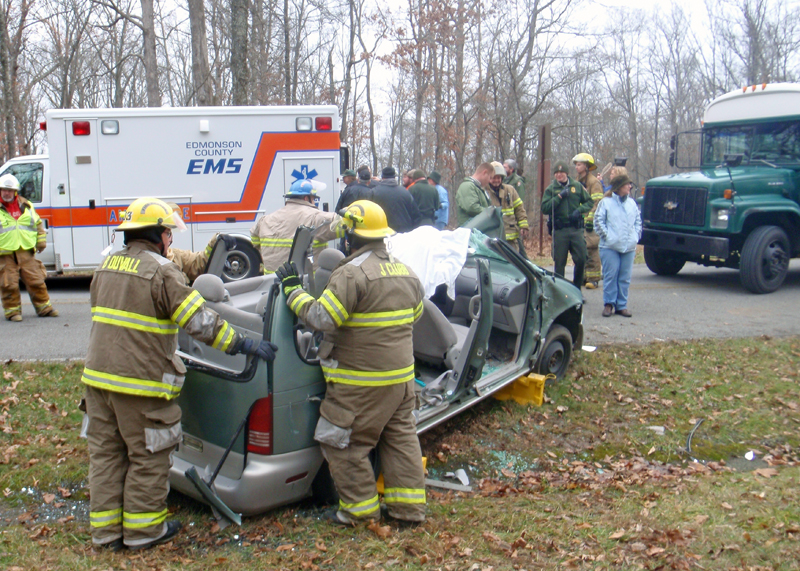 News Release Date:
January 26, 2010
Mammoth Cave National Park recently teamed up with Edmonson County emergency response teams to host EMS skills refresher training. 
The purpose of the training, which was held at Mammoth Cave, was to assess the capacity and resources of multiple organizations, test the effectiveness of inter-agency cooperation, and improve communications. The mock-accident scene was designed to examine established policies, plans, procedures, training, and equipment in order to determine best practices.
Coordinators of the training exercise included Mammoth Cave law enforcement ranger Brian Sacia; Edmonson County Emergency Management Director, Pat Prunty; and Edmonson County EMS Director, Keith Sanders. Cooperating agencies were Mammoth Cave National Park, Edmonson County Emergency Management, EMS, Dispatch, and Jaws of Life. Both Kyrock and Park City volunteer fire departments also participated in the training exercise.
"It is Mammoth Cave's responsibility to be ready for any situation that could occur in the park" said Chief Law Enforcement Ranger Wayne Elliott.
The training staged a several-hour, full-scale mass casualty incident in which a passenger vehicle collided with a Mammoth Cave Hotel tour bus. Sixteen volunteers and park staff received written instructions in how to play victims in the accident. Several volunteers were staged as unconscious victims in a van; they were eventually extracted using the Jaws of Life. The remaining actors on the bus "suffered" varying degrees of injury including head trauma, bleeding, heart problems, and disorientation. 
Leslie Price, a Mammoth Cave park ranger who played an injured tour guide, said, "This exercise helped prepare everyone to coordinate a response to a real-life traffic accident in the park."
MammothCavepersonnel and local emergency services agencies responsible for response in the park had their hands full when they arrived at the mock accident scene. "It was a difficult scene to manage and control, but our staff and local emergency responders did an excellent job in rapidly and efficiently triaging and treating victims," explained Mammoth Cave law enforcement ranger Josh Clemons. 
Pat Prunty, Edmonson County Emergency Management Director, expressed his satisfaction with the training during the after-action review following the exercise. "I think it is beneficial for government organizations to work together and coordinate a response to a possible accident," said Prunty.
Coordinator Brian Sacia was also pleased with the inter-agency cooperation and training accomplished during the EMS skills refresher. Sacia said, "The experience gained from responding quickly in a learning environment may mean the difference between life and death for a real patient in an actual incident."
- NPS -