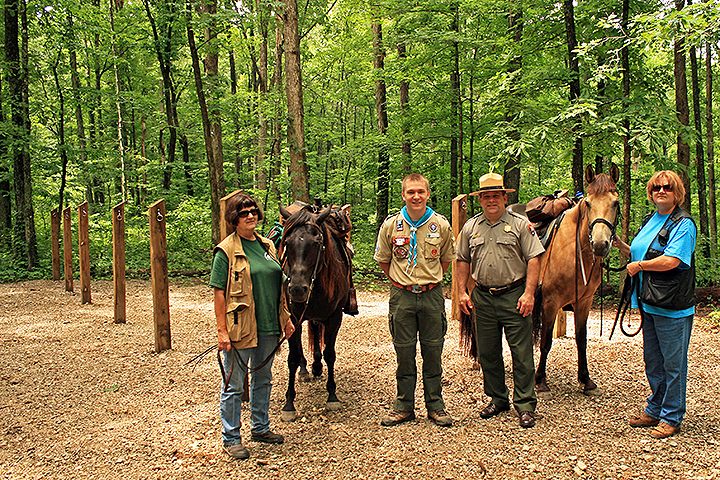 News Release Date:
July 9, 2014
Contact: Vickie Carson, 270-758-2192
MAMMOTH CAVE, Ky., July 9, 2014 – Thanks to Eagle Scout Michael Kern, Mammoth Cave National Park has a new horse trailside rest-area along Collie Ridge Trail, deep in the park's backcountry. Kern planned and constructed 10 hitching posts to earn his Eagle Scout designation.
"Each year, more than 10,000 visitors enjoy the park by horseback," said Lizzie Watts, Acting Superintendent. "Now, many of them will use this spot to rest during their ride. Kern did an excellent job in determining the work to be done and organizing volunteers from his troop. The site is adjacent to the trail, convenient for riders, and will wear well. We truly appreciate his work." 
Kern is presently a member of Troop #710 from Bowling Green, Kentucky, and started out as a Tiger Cub in 2004. Twelve scouts and six adults contributed a total of 184 hours to the project. The project consisted of clearing the site of downed trees, stumps and brush; digging holes; cutting and drilling the hitching posts; and setting the posts in concrete in the ground. The entire area, about 240 square feet, was then covered with geo-fabric and hardened with eight tons of gravel – moved with shovels and wheelbarrows. 
With funding from a National Park Foundation Active Trails Grant, the park purchased supplies for Kern's project. "The National Park Foundation has been a great friend and supporter of Mammoth Cave in the past," added Watts. "This grant has helped us promote healthy outdoor recreation and proper use and care of our trails so they will be in good condition for years to come." 
"I chose to install hitching posts as my Eagle Scout project based on my previous volunteer work at Mammoth Cave, where I saw the damage that horses can cause if they are tied to trees," said Kern. "The park provided some rest stops for horses, but I could see that more were needed. This project gave me a chance to directly help the environment and the back country horsemen. I knew it would stand for quite some time as a testament to what scouts and the National Park Service can create together." 
www.nps.gov/maca