Dream Rocket has landed at Mammoth Cave National Park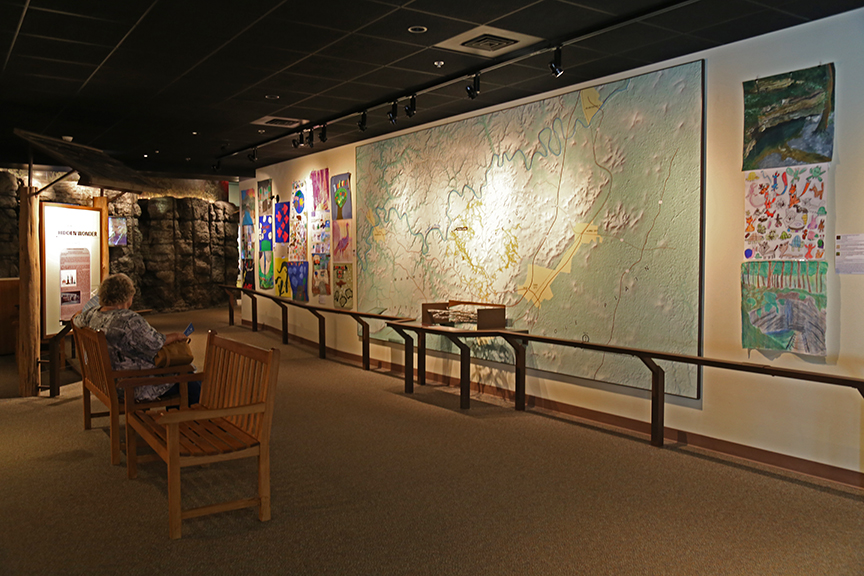 News Release Date:
November 3, 2014
Contact: Vickie  Carson, 270-758-2192
MAMMOTH CAVE, Ky., November 3, 2014 – Dream big! That's the purpose of Dream Rocket artwork. Student Dream Rocket creations that focus on Mammoth Cave's biodiversity are on display now in the park visitor center. The exhibit will continue through November 16, 2014.
"The student artwork is a fun and creative way to examine a big topic – the biodiversity of Mammoth Cave National Park," said Superintendent Sarah Craighead. "The park is home to more than 1,300 plant species, and 70 threatened, endangered or state-listed species. The cave is recognized as having one of the most diverse karst biota in the world, with more than 40 species that spend their entire life in the cave and almost 100 others that are readily found in park caves." 
Students from 67 classes in 11 schools collaborated on the 86 pieces of art in the Mammoth Cave exhibit. The schools include: Yonkers Montessori School, Yonkers, N.Y.;Avon Community School, Avon, Ind.;Grayson County Middle School, Leitchfield, Ky.;Laukhuf Elementary, Louisville, Ky.;Bullitt Central High School, Shepherdsville, Ky.;Munfordville School, Munfordville, Ky.;West Hardin Middle School, Cecilia, Ky.;East Hardin Middle School, Glendale, Ky.;Butler County Middle School, Morgantown, Ky.;Hart County High School, Munfordville, Ky.;and Jesse Stuart Elementary School, Madisonville, Ky. 
In all, 920 students participated in the project. 
The Dream Rocket project launched in 2009 as an initiative of the International Fiber Collaborative, a grassroots arts and education organization based in Huntsville, Ala. The overall purpose is to create deeper learning experiences through art, collaboration, and cross-curricular themed programming for individuals and their communities. 
Dream Rocket is collecting 8,000 works of art, including those on display at Mammoth Cave, that will be stitched together to wrap a Saturn V Moon Rocket replica at the U.S. Space &Rocket Center in Huntsville, Ala., for a temporary public art exhibition. 
"Through the Mammoth Cave exhibit, visitors will see the many ways that students have expressed their understanding of what the biodiversity of Mammoth Cave National Park means to them," said Dream Rocket project organizer Jennifer Marsh. "By exposing students to the importance of collaboration, through multi-disciplinary approaches, we hope to inspire them to feel the freedom to dream big." 
To learn more about Dream Rocket, go to http://www.thedreamrocket.com/ 
www.nps.gov/maca/  
Last updated: April 14, 2015