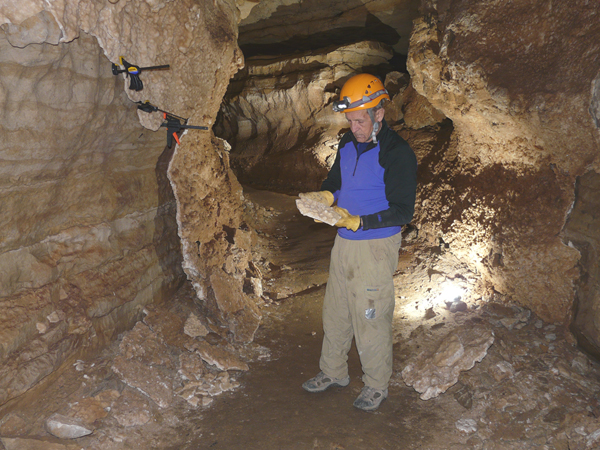 News Release Date:
February 8, 2010
Contact: Nicole Bull, 270-758-2192
Contact: Vickie Carson, 270-758-2192
Click—it's the sensation of fitting together two jagged pieces of a delicate, crystalline cave formation known as gypsum. This past fall, New Mexico natives Jim Werker and Val Hildreth-Werker worked in Mammoth Cave National Park's Crystal Cave, diligently searching for that "click". They repaired damage that occurred in 1995 when three vandals broke formations along a mile of passageway. At the time, park law enforcement rangers recovered 600 pounds of stolen gypsum and returned it to Crystal Cave.
Now, 14 years later, and with new methods, Jim, Val, and their helper, Doug Soroka, search for just the right pieces of gypsum to match together and reattach to the walls. Val, a professional photographer, says piecing together gypsum formations is "like working a giant 3-D jigsaw puzzle from the inside out."
The Werkers are seasoned cave restorers; Jim got his start in caves in the Guadalupe Mountains in 1978. Val began repairing formations when she and Jim met while caving in the 1990's. Together they have brought their skill to two-hundred caves including New Mexico's Carlsbad Caverns, Oregon Caves National Monument, and Arizona's Kartchner Caverns. The couple literally wrote the book on cave restoration – Cave Conservation and Restoration describes innovative techniques to repair damaged formations. The Werkers were also the first to discover how to fix broken gypsum formations, a more difficult task than repairing stalactites and stalagmites.
Legendary cave explorer Floyd Collins discovered Crystal Cave in 1917. In January of 1925 he brought attention to the cave region when he became trapped in Sand Cave and died there. Restoring the splendor of Crystal Cave is no walk in the park; gypsum is extremely brittle, making it difficult to handle.
"Crystal Cave is an enormous challenge for the Werkers," said Rick Toomey, director of the Mammoth Cave International Center for Science and Learning. "Usually when they do cave restoration the pieces are in their original location. In this case, specimens were taken out, jumbled about, and bleached for sale."
The restoration process is intricate and time consuming. The team often puts in 8 to 10-hour days. They must find the matching pieces, glue them back together, and attach the finished product to the wall using stainless steel rods.
"The big thing is figuring out how to rig it so it will stay in place," said Jim. "We use a lot of bungee cords and small clamps. It takes several days for the glue to set." Once the epoxy is dry it can withstand 50,000 pounds per square inch of pressure. Afterwards the seams and bolts are undetectable. The completed walls are even dusted with a loose powdering of cave dirt so that the colors match.
"We'll work on an area until we get tired, and then move on to a new area, which gives us a fresh perspective," Jim added. "We walk a lot of miles in a day."
"We get intimately involved in the process," Val explained. "Sometimes I can just walk along the passage and see a piece and think aha! I know where this goes."
Crystal Cave has long been famous for its beautiful gypsum crusts and flowers. Now thanks to the skilled efforts of Jim, Val, and Doug it will also be known for gypsum restoration.
- NPS -