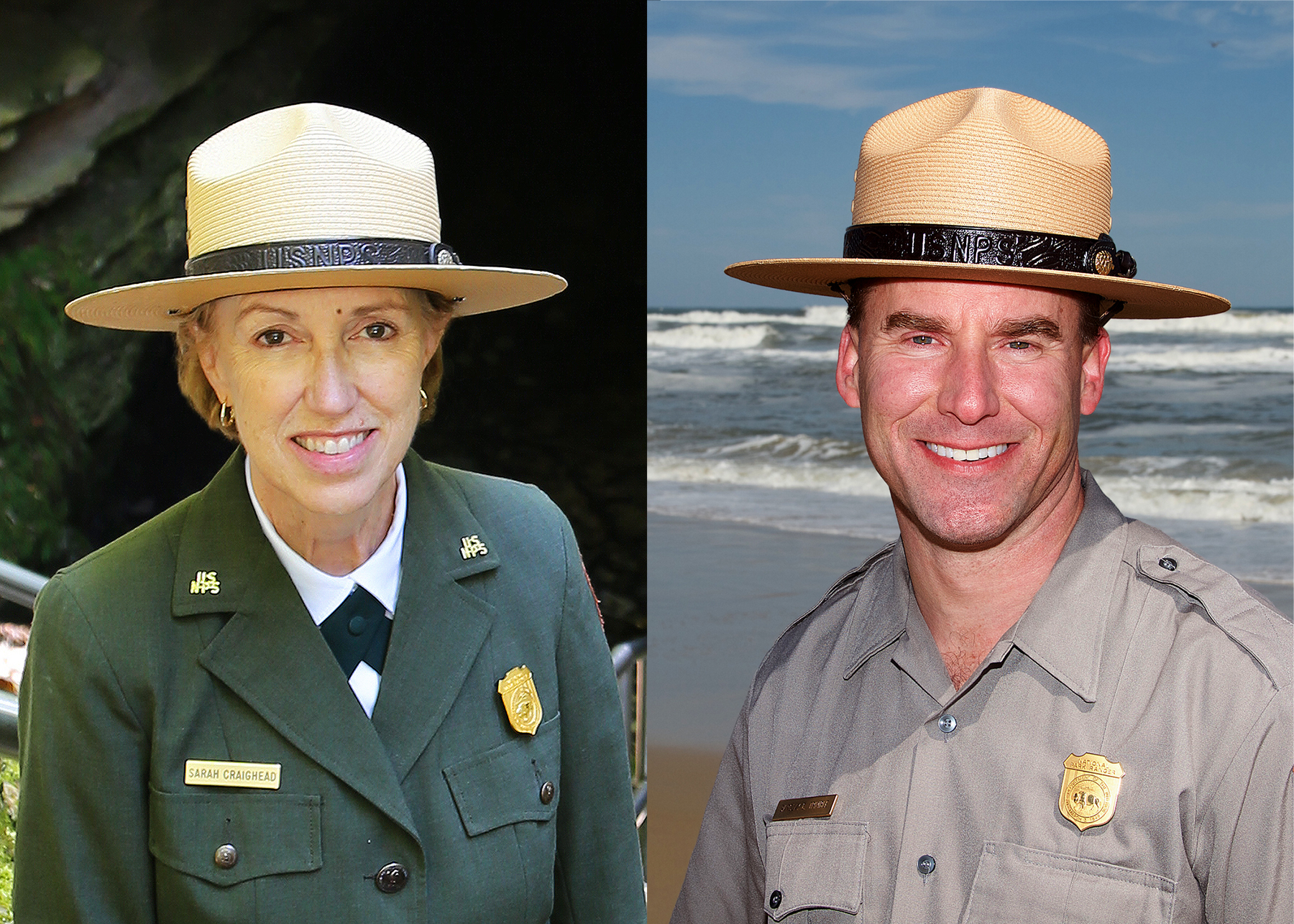 News Release Date:
July 6, 2017
Contact: Saudia Muwwakkil, 404-507-5615
Contact: Vickie Carson, 270-758-2192
ATLANTA — Today, National Park Service (NPS) Southeast Regional Director Stan Austin announced the selection of Mammoth Cave National Park Superintendent Sarah Craighead as deputy regional director, based in Atlanta. With this selection, Austin has also tapped Southeast Regional Chief of Staff Barclay Trimble as Mammoth Cave's next superintendent. Both appointments are effective July 23.  
"Sarah and Barclay have distinguished themselves as exceptional leaders within the National Park Service," Austin said. "Sarah has a remarkable ability to tackle tough issues with clear vision, while fostering a strong sense of connection and purpose. I have relied on Barclay extensively for his business acumen and invaluable contributions to regional strategy and operations. I am confident both will continue serving the National Park Service and the American people well in their new roles."  
Sarah Craighead, Deputy Regional Director, Southeast Region
Sarah Craighead, who began her NPS career as a cave guide and campground ranger at Mammoth Cave in 1978, has led the central-Kentucky park as superintendent since 2012. Park visitation increased by 10 percent during her 5-year tenure. She fortified partnerships with tourism constituents, volunteers, user groups, and the Friends of Mammoth Cave. Craighead opened the park's renovated visitor center and Big Hollow mountain-bike trail, and supported the removal of 100-year-old Lock & Dam 6 from Green River, returning many miles of surface and cave rivers to natural flow. As the Kentucky NPS coordinator, Craighead led her fellow superintendents to bring widespread recognition to the state's five NPS sites during the agency's Centennial year. Craighead also initiated night-sky programming and the park will complete its International Dark Sky nomination this year.  
Prior to joining Mammoth Cave, Craighead spent three years as superintendent of California's Death Valley National Park, the largest national park in the continental U.S. and the lowest place in North America at 282 feet below sea level. She also served as superintendent of Saguaro National Park in Arizona and Washita Battlefield National Historic Site in Oklahoma. In her 38-year career, Craighead has also worked at Acadia National Park, Carlsbad Caverns National Park, Grand Canyon National Park, Manassas National Battlefield Park, Independence National Historical Park, and Mesa Verde National Park. While at Mammoth Cave, Craighead completed temporary assignments to the NPS Southeast Regional Office as acting deputy regional director and also as a special assistant to the regional director.  
"Whatever I have been able to accomplish at Mammoth Cave was possible because of the park staff's dedication to excellence in all they do," said Craighead. "I am particularly pleased with the progress we made in providing concessions services for visitors and that several strategic plans are underway, which will guide Mammoth Cave for years to come. I am honored to begin my new assignment with the Southeast Regional Office, bringing the same enthusiasm and commitment to bear for the region's 70 national park units."  
Craighead is a native of Cave City, Ky. She is married to Rick Shireman, a National Park Service retiree.  
Barclay Trimble, Superintendent, Mammoth Cave National Park
Barclay Trimble has served as the NPS deputy regional director in Atlanta since 2014, assuming the added duties of regional chief of staff last year. He manages 30 superintendents at national parks in Florida, Kentucky, North Carolina, Puerto Rico, South Carolina, Tennessee and the U.S. Virgin Islands. He also oversees regional planning and compliance, land resources, ranger activities, and commercial services.  
Prior to joining the NPS Southeast Regional Office, Trimble served as cluster superintendent of Cape Hatteras National Seashore, Wright Brothers National Memorial and Fort Raleigh National Historic Site in North Carolina; deputy superintendent and acting superintendent at Grand Canyon National Park in Arizona; recreation fee manager for the NPS Intermountain Region in Colorado; acting chief for the Business Management Office at Glen Canyon National Recreation Area in Utah/Arizona and chief of finance for the NPS Concessions Program Center in Colorado. In addition to these tenured assignments, Trimble has also provided administrative and management support during temporary assignments at, both, Denali National Park and Preserve in Alaska and the National Transportation Safety Board in Washington, DC.  
"Mammoth Cave National Park boasts amazing resources with equally impressive employees, volunteers and community partners," Trimble said. "I look forward to joining the park this summer and immersing myself in the majesty of Mammoth Cave."    
A Texas native, Trimble graduated from the University of Texas at San Antonio with a degree in Business Administration. In his spare time, Trimble takes every opportunity to enjoy the parks and outdoors with his two children and wife, Lana.  
# # #
Mammoth Cave National Park
is two parks in one. Below the surface, it preserves the extensive Mammoth Cave system and above ground, scenic river valleys and the extreme hills and hollows typical of a karst landscape. Mammoth Cave is the longest cave in the world, with more than 405 miles explored and mapped.