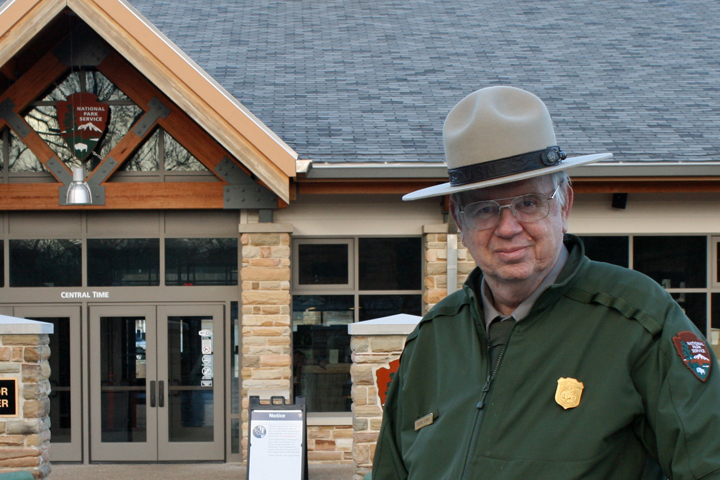 News Release Date:
August 21, 2012
Contact: Vickie Carson, 270-758-2192
(MAMMOTH CAVE, Ky. - August 21, 2012) "Most of my caving has been underground." A typical wry remark from George Bruce Corrie, said in a soft tone with a bit of grin. Corrie, a life-long caver, retired from Mammoth Cave National Park on August 11, 2012, with 38 years of government service. 
"Throughout his career at Mammoth Cave, George provided a firm foundation for the guide force," said Acting Superintendent Bruce Powell. "Much of his work was behind the scenes and virtually unseen. As a supervisor to our summer guides, George has taught and mentored hundreds of employees. He is a wealth of information about Mammoth Cave and caving. George will be missed." 
His interest in caving began early in his life with family trips to Luray Caverns (Va.) and Carter Caves State Park (Ky.). "Luray really sparked my imagination," said Corrie. "Then at Carter Caves, a friend of the family who worked there took us into Bat Cave, an undeveloped, wild cave," said Corrie. "Not long after that I joined the National Speleological Society - I was still just a kid, so my mom had to join with me." 
A family caving obsession began. Corrie and his parents, George Sr. and Sara, are famous in the caving world for cave exploration, mapping and conservation. During the 1960s, they often traveled from their Huntington, W.V., home to explore and survey James Cave and Coach (aka 1000 Domes) Cave in Edmonson County, Ky. 
Corrie is a graduate (1965) of Huntington (W.Va.) High School and studied forestry at the University of Kentucky. He worked seasonally for the National Park Service for a few years, at Ford's Theatre National Historic Site, the Washington Monument, the Lincoln Memorial (all in Washington, D.C.) and Castillo de San Marcos National Monument (Fla.). In 1976, he was hired as a permanent employee at the Frederick Douglass National Historic Site in Washington, D.C. 
Corrie came to Mammoth Cave in 1979. Drawing from his vast cave experience, he quietly improved Mammoth Cave tours and working conditions for cave guides by seeing to basic needs:
·       He developed and installed telephone listings inside 14 cave phone boxes, essential to all cave emergencies; the small signs prominently state the location of the phone, who to call in an emergency, and other park/cave phone numbers.
·       In the 1980s, he saw a need for a teen crawling tour. Corrie proposed and developed the Explorer cave tour to span the gap between Trog (for ages 8-12) and the Wild Cave tour (for ages 16 and up). Explorer became the prototype for the present-day Introduction to Caving tour, for ages 10 and up, and very popular with family groups.
·       Always having a mind for safety in the cave, Corrie placed first aid kits along the Wild Cave route, and developed small kits for all guides to carry. He implemented better crawling gear for guides and visitors and upgraded flashlights for guides. For many years, Corrie maintained the guide force gas lanterns, 46 along ten miles of tour routes and 30 held in reserve on the surface.
·       To help new guides, Corrie compiled information on the history and geology of each cave tour. He also wrote text for wayside exhibits and several publications. 
In his 32 years at Mammoth Cave, Corrie believes he guided 5,875 Historic tours, and probably more than 10,000 total tours along 19 different routes.  
"One of my favorite Mammoth Cave memories is from 1991," said Corrie. "For the park's fiftieth anniversary I was asked to revive the All Day tour for the celebration, which had not been offered since the 1960s. It is seven miles, from the Historic Entrance, across Echo River, through the Snowball Room, and out to Frozen Niagara. We offered three trips, 80 people each, commemorating the park's anniversary and 175 years of tours through Mammoth." 
Outside of his work day, Corrie sought other cave experiences. In 1997, he joined the board of Lost River Cave, a commercial cave in Bowling Green, Ky. "It started as an outreach for the park, but grew into my own personal interest," explained Corrie. Lost River was an underground night club from the 1930s until it closed in the 1960s. Corrie worked with the Friends of Lost River to institute boat tours in the cave; 1,500 people took the trip the first year, 10,000 the next, and now 50,000 people tour Lost River every year. 
Corrie plans to continue visiting caves and with his work with Lost River Cave as a member of the Friends board. 
www.nps.gov/maca/