Date:
November 26, 2007
Contact:
Vickie Carson, 270.758.2192
Contact:
David Lyons, 270.749-5695; 270.670.6728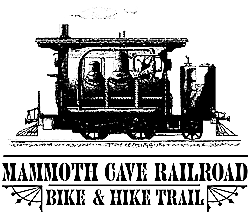 MAMMOTH CAVE NATIONAL PARK (November 26, 2007) – Superintendent Patrick Reed announced today that the opening ceremony for the completed, nine-mile, Mammoth Cave Railroad Bike & Hike Trail is scheduled for 10:00 a.m., Saturday, December 8, 2007.  The public is invited to attend the informal ceremony, outside the Mammoth Cave Hotel.
"We want to celebrate and publicly thank those who worked on the trail or provided funding for it," said Reed. "Our friends at National Park Concessions, Incorporated donated $745,000. Volunteers put their sweat equity into it. Our park workers constructed the final, and very difficult, link across Doyel Valley. We are grateful to them all."
The ceremony will take place at the internal terminus of the trail near the Mammoth Cave Hotel. Participants are encouraged to bring their bicycles or hiking boots to try out on the new trail following the ceremony.
The trail in total is nine miles within the park, connecting to the one-mile Park City bike trail, and terminating at historic Bell's Tavern. It is designed with several entry points so that hikers and bikers may choose to cover the entire length, or opt for shorter segments. 
"It's already popular with the public," added Reed. "About 4,000 people used the trail in 2006, and statistics look like that number will be nearly 6,000 by the end of 2007."
NPCI's contribution funded approximately 55 percent of the trail and wayside exhibits; the National Park Service funded the remaining 45 percent. Park City received a state/federal grant to fund its trail.
"We in Park City would like to thank everyone who has helped with the trail, especially Park City resident Charles Hogan," said David Lyons, mayor of Park City. "Charles was instrumental in the funding and design of the Park City Hike and Bike Trail.  We also want to acknowledge District Three of the Kentucky Department of Transportation and the National Park Service for making the trail connection with Mammoth Cave National Park possible."
The trail follows the remaining portions of the old berm of the Mammoth Cave Railroad, from Park City to Sloan's Crossing, across Doyel Valley to the park headquarters area near the Mammoth Cave Hotel. It is constructed of dense-grade gravel, averages eight feet wide, and is designed for family use.   
- NPS -