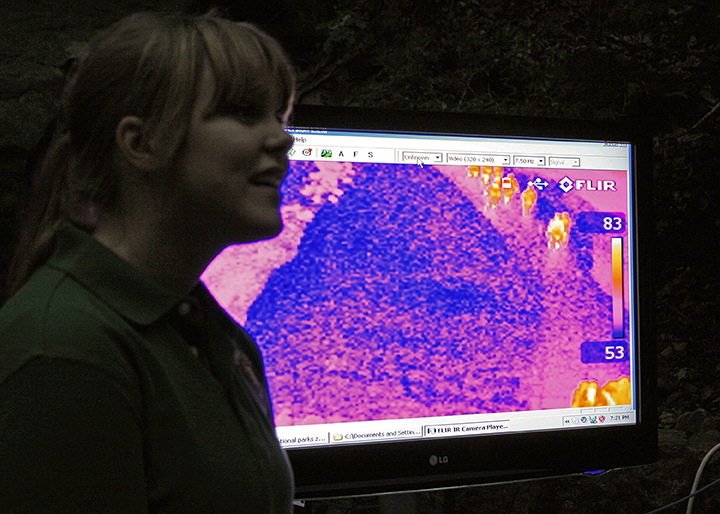 News Release Date:
August 25, 2014
Contact: Vickie Carson, 270-758-2192
MAMMOTH CAVE, Ky., August 25, 2014 –Have you ever wondered how scientists study bats? Would you like to use night vision equipment to watch bats flying out of a cave? Would you like to see what bats eat or hear the different calls that bats make?
On Saturday, September 6, Mammoth Cave National Park will celebrate its fourth annual Bat Night. Visitors will have the opportunity to learn about bats, talk to bat researchers, and gain hands-on experience using the scientific equipment that researchers use to study bats. All Bat Night events and activities are free and open to the public. 
 "We hope the overall Bat Night experience will help people appreciate these small, nocturnal creatures, which often go unnoticed," said Superintendent Sarah Craighead. "They are important on farms, in town, and here in the park as the number one predator of night-flying insects," "This year Bat Night is part of a larger, regional study, the Southeastern Bat Diversity Network's annual Bat Blitz," said Shannon Trimboli, education coordinator of the Mammoth Cave International Center for Science and Learning. 
"Bat Blitzes collect data about bat species found in specific locations during the fall, and give educators, students, and the public a chance to interact with bat researchers. It's perfect partnership with Bat Night." Other Bat Blitzes will be conducted throughout the southeastern United States September 4-10, including one in Lexington, Ky., hosted by the Kentucky Department of Fish and Wildlife Resources. 
At Mammoth Cave's Bat Night, from 10:00 a.m. to 1:30 p.m., special bat-related displays will be set up at the visitor center, featuring information about current bat related research at the park. At dusk, as the bats begin to wake up and fly out for a night of foraging, the activities will move down the hill to the Historic Entrance. 
Beginning at 7:00 p.m., stations will be set up at the Historic Entrance to give visitors the opportunity to see scientific equipment in action. Scientists, educators, and volunteers will be available at each station to explain the equipment and answer questions. 
The stations will include: 
Capturing bats as part of the Bat Blitz 
Light trapping of insects to study what the bats are eating 
Night vision scopes and thermal infra-red cameras to see the bats as they fly out of the cave 
Bat detectors that allow people to hear the sounds that the bats make. 
"Please bring a jacket, especially for our younger visitors," said Mammoth Cave Ranger Leslie Price. "Some of the night vision stations will be located at the gate of the Historic Entrance where the cool, cave air will be blowing out at 54 degrees F. You can become surprisingly cold standing in the cave breeze, especially when contrasted with the humid, 90 degree plus weather we have been having recently." 
"Bat Night pulls together many partners and we are thankful to all of the researchers, educators, and volunteers who are helping us put on this event," added Craighead. 
Assistance for this year's Bat Night is provided by: 
Bat Conservation and Management, Inc.  
National Park Foundation and DisneyNature 
Eastern Kentucky University 
Kentucky Department of Fish and Wildlife Resources 
Murray State University 
University of Kentucky 
Western Kentucky University 
Cumberland Gap National Historic Park 
NPS Cumberland Piedmont Network Office 
Student Conservation Association. 
"Unfortunately, we will also share information about white-nose syndrome in bats," said Craighead. 
While there are no known harmful effects to humans, white-nose syndrome (WNS) is responsible for the deaths of millions of hibernating bats across the eastern United States since its discovery in 2006. WNS was found in Mammoth Cave in winter 2012-13, and park staff are taking precautions to minimize the spread of WNS fungus from Mammoth Cave. Bat Night participants must walk across bio-security mats to clean their footwear. 
www.nps.gov/maca