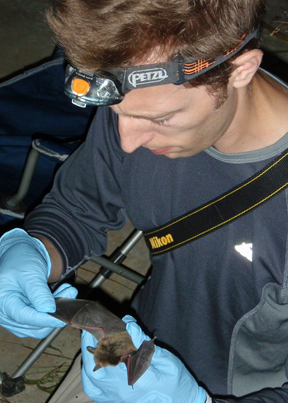 News Release Date:
August 18, 2011
Contact: Vickie Carson, 270-758-2192
Contact: Shannon Trimboli, 270-758-2422
Saturday, August 27, is Bat Night at Mammoth Cave National Park and around the world. Park staff have scheduled activities during daylight hours, and also at dusk, the prime time for viewing bats.
"Bat Night, and its related daytime activities, is set aside to recognize the importance of bats to our natural and man-made world," said Superintendent Patrick Reed. "Eight species frequent the park caves, and we have five other species that roost in trees. In total, there are 1,200 species of bats worldwide, accounting for nearly one quarter of all mammal species."
Shannon Trimboli, education director of the Mammoth Cave International Center for Science and Learning, is coordinating the event. "During the day on Saturday, there will be posters describing bat-related research happening at Mammoth Cave National Park and a display of fun bat information," Trimboli said. "Then at dusk, when the bats wake up and start flying, we're going to set up monitoring stations with night-vision goggles and equipment which will let you hear the bats' calls. We hope people will come out and see the bats for themselves."
Daytime activities will run from 8:30 a.m. to 4:00 p.m. (Central Time) at the park visitor center. Poster topics include bats of Kentucky, methods used to monitor bats in the park, and White-Nose Syndrome in bats. Junior Ranger activities will also be held throughout the day and will focus on bats. There will be a bat evening program at the park amphitheatre at 7:30 p.m. From 8:00 to 9:30 p.m., three monitoring stations will be set up between the back door of the visitor center and the Historic Entrance of Mammoth Cave.
"Sadly, we will also be sharing information about White-Nose Syndrome in bats," said Reed. "It is a fungus that kills cave-dwelling bats. It was first found in a New York cave in 2006 and has since spread to caves and mines across the eastern states." White-Nose Syndrome has not been found at Mammoth Cave; it has been found in a cave in western Kentucky, and caves or mines in most adjacent states.
This year has been designated as International Year of the Bat, and August 27 was designated as International Bat Night. On that night, bat-related activities will be held across the world to focus attention on bats.
Dr. Merlin Tuttle of Bat Conservation International of Austin, Texas, is the honorary ambassador for the International Year of the Bat. "Simply because they are active only at night and difficult to observe and understand, bats rank among our planet's most misunderstood and intensely persecuted mammals," said Tuttle. "Those that eat insects are primary predators of the vast numbers that fly at night, including ones that cost farmers and foresters billions of dollars in losses annually. As such bats decline, demands for dangerous pesticides grow, as does the cost of growing crops like rice, corn and cotton."
For more information on the International Year of the Bat go to http://www.yearofthebat.org/about-year-of-the-bat/
For more information on International Bat Night go to http://www.yearofthebat.org/events/north-america/
- NPS -