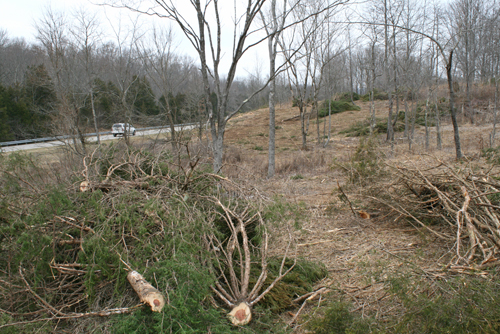 News Release Date:
March 3, 2010
Contact: Vickie Carson, 270-758-2192
In the past decade, staff at Mammoth Cave National Park have worked to increase the diversity of the surface side of the park. To date, four barrens, or prairies, thrive at Wondering Woods, Great Onyx Job Corps, and on Flint Ridge. Another, along the Mammoth Cave Parkway near Park City, is presently in an awkward stage of change and growth.
"I compare our progress on this new barren to adolescence," said Superintendent Patrick Reed. "We are cutting trees to expose the ground to sunlight and the area looks a bit rough right now. We expect seed stock in the ground will sprout in the spring and summer. Please bear with us through these growing pains – it will be beautiful in another year or so."
The project began in November 2008, when cedars and pines were removed from about 71 acres on either side of the parkway. Now other trees and exotics are being cut to open the canopy and allow sunlight to reach the ground. The sunlight will allow dormant seeds left by prairie plants years ago to germinate.
"Unlike the other prairie sites in the park, which were planted, this time we are allowing previous grassland to restore itself," said Rick Olson, park ecologist. "In 2009, we saw many prairie species pop up on their own – native sunflowers, butterfly milkweed, lobelia, asters, and tall coreopsis." At the other sites, woody and exotic species were removed with heavy equipment and herbicides, and then planted in prairie grasses and flowering plants.
"The edge – where forest and open areas meet – is important to many birds and mammals," said Olson. "The barrens, for which Barren County is named, once covered hundreds of thousands of acres out on the Sinkhole Plain. Restoring these karst grasslands will help provide habitat for many wildflower species that simply have almost no place to grow."
Portions of Mammoth Cave RR Bike & Hike trail will be temporarily closed between the park boundary at Park City and the top of the hill at Chaumont.
"For safety, we are asking the public to use other sections of the trail while this work in underway," said Reed.
- NPS -