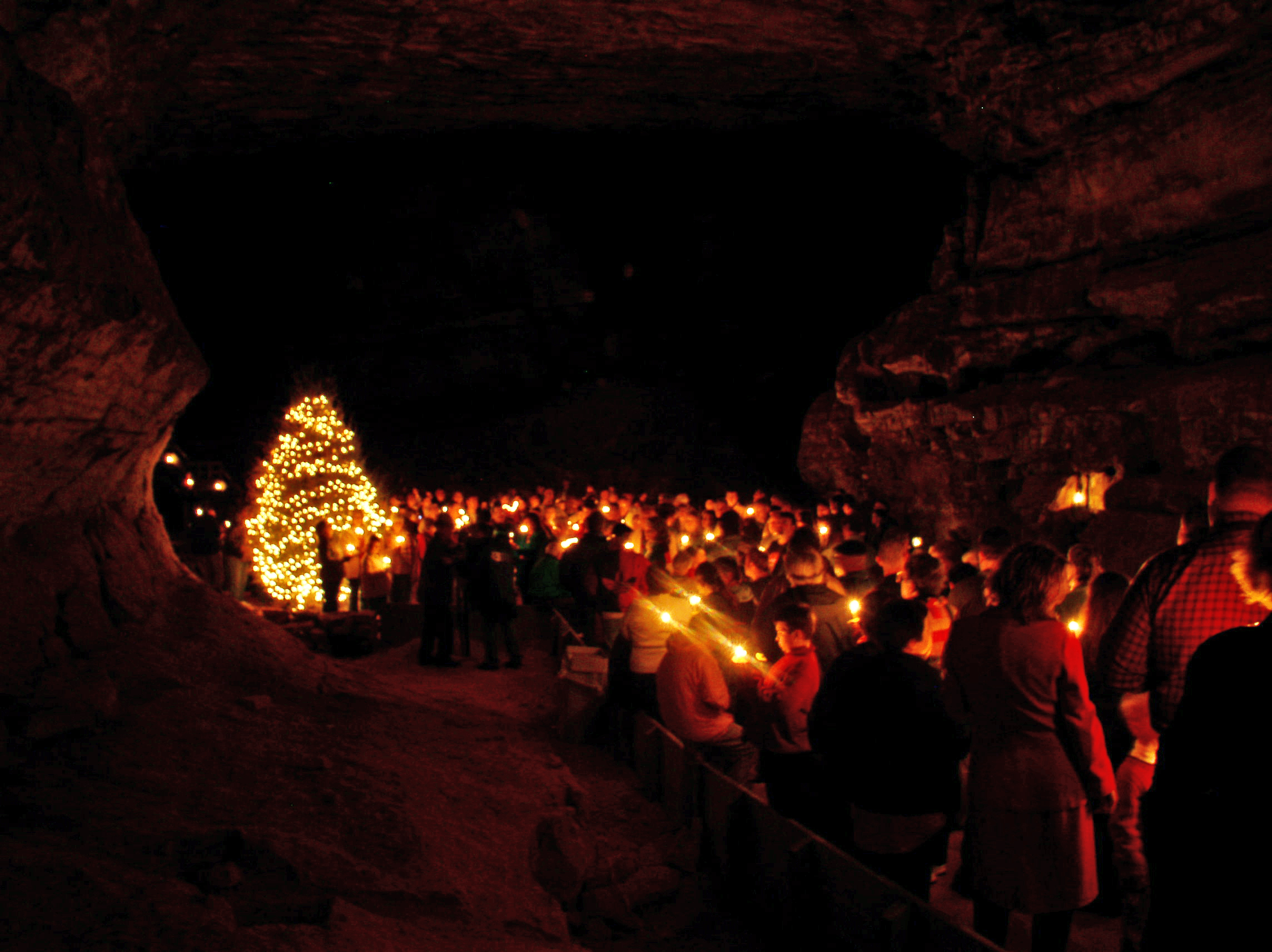 News Release Date:
November 21, 2013
Contact: Vickie Carson, 270-758-2192
(MAMMOTH CAVE, Ky.) Mammoth Cave National Park Superintendent Sarah Craighead invites all area residents to the 34rd annual Cave Sing, Sunday, December 1, 2013. Participants will depart from the visitor center at 2:00 p.m. for this free event.
"We have hosted the Cave Sing every year since 1980," said Craighead, "and we hope again this year, many local residents will return for a fun afternoon underground. The acoustics of the cave are excellent whether listening to performers or singing along."
The idea for the Cave Sing dates back to 1883, when residents held a Christmas celebration inside Mammoth Cave. An article about the event stated, "the halls of the cave ring with joyous carols and the laughter of happy children."
"The Caveman Chorus is back this year," said Chuck DeCroix, one of the event coordinators. "We hope visitors will enjoy the a cappella tones of this old-fashioned barbershop group. The Glasgow Brass Quintet will grace us with an underground performance, too. You don't want to miss it."
The schedule follows:
• 1:15 p.m., storytelling at the Mammoth Cave Hotel Rotunda room.
• 2:00 p.m., depart for cave from the visitor center. Inside the cave, visitors will hear the Caveman Chorus and the Glasgow Brass Quintet.
• 3:30 p.m., complimentary refreshments are served at the Mammoth Cave Hotel and Santa Claus arrives.
Please remember that Cave Sing requires walking up and down a steep hill and climbing steps. Participants should dress warmly in layers and wear comfortable shoes or boots. Even though the cave air stays at a constant 54° Fahrenheit, wind chills in the entrance are much cooler. For further information, call 270-758-2180.
Note: tour requirements regarding white-nose syndrome (WNS) in bats: While there are no known harmful effects to humans, WNS is responsible for the deaths of millions of hibernating bats across the United States since its discovery in 2006. WNS has not been found in the toured areas of Mammoth Cave to date, however, Park staff are taking precautions to minimize the spread of WNS fungus to or from Mammoth Cave. When going on a Mammoth Cave tour, do not wear clothing or shoes that have been worn in other caves or mines. All participants on cave tours must walk on bio-security mats immediately following the conclusion of their tour.
www.nps.gov/maca