Steel Rails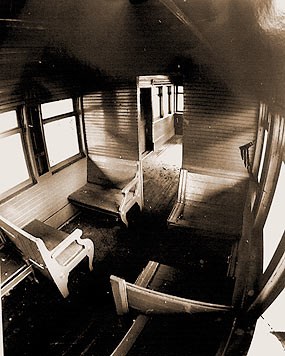 ---
By the middle 1880s, the tens of thousands of yearly visitors to Mammoth Cave were arriving by rail. In 1886 the Mammoth Cave Railroad Company was born of the vision of Col. R.H. Lacey, Col. Overton Lea, Jered Baxter, L.J. Proctor, J. Hill Eaken, and Col. Whiteford R. Cole. The men had considered the prospect of erecting a rail line between the Cave and Glasgow Junction, and the Company set Jim McDaniel and Henry Chapman to begin construction on July 3 of that year. By November, the first passengers had paid their $2 fare and were steaming to Mammoth Cave. Indeed, an old Mammoth Cave estate ledger and hotel register records W.F. Richardson as the "1st Passenger on Mammoth Cave Railroad."
The Mammoth Cave railroad would operate successfully for 50 years, under lease to the L&N Railroad. Two dummy locomotives, two passenger coaches and two combination coaches carried not only passengers but any goods and freight needed between the two terminal stops and the in-between stops at Diamond Caverns, Chaumont Post Office, Union City, Proctor's Hotel and Sloan's Crossing. Passengers could catch one of the several 25-minute runs during the summer, but only a single round trip was offered in winter.
Although functional, the rail service on this line seems to have inspired some skepticism on the part of travelers following the rugged line around curves and over trestles through rough country. One passenger, in 1907, described the line as "two streaks of rust" with grass growing in between. The same writer recounts that the conductor pointed out: "You notice that we have our cowcatcher on the rear end, so as to keep the cows out of the ladies' coach. Why, a bull got after us last week and would have ketched us, too, if we hadn't been on the down grade!"
When in 1912 interest began to appear for the creation of a national park at Mammoth Cave, the L&N Railroad took interest also, for the potential profit from the increased number of visitors. But by the late 1920s the railroad had fallen on lean times, and the railroad had even begun trials with "railbuses" – buses with train wheels instead of using locomotives with cars. The decline came with the arrival of automobiles and buses, heralded in 1901 as the first car rolled in to Mammoth Cave.
In February of 1928 the line was sold to F.L. Gallup of Michigan, who in turn sold the line four years later to the stockholders of the newly formed Mammoth Cave National Park Association. These new owners determined, on September 1, 1931, to cease operations on the line, and to dispose of the equipment.
The loss of the railroad was no reflection of the numbers of visitors, however, and just as new roads were developing to bring cars and buses to the cave, so were new roads being discovered underground.
Last updated: May 23, 2018