Oh, Innkeeper!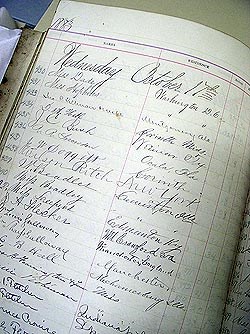 ---
Although the Mammoth Cave Hotel was a fine hostelry, it was only one of several well-known stopovers along the line in Kentucky. Dickey's Tavern at Pruitt's Knob, Elizabethtown's Eagle House, Bardstown's Stone Inn, and Kerr's Inn in Munfordville, among others, offered rich hospitality for the weary traveler.
Typical tavern prices around 1820:

• Rum, wine or French brandy, per quart, $1.50
• Whisky or peach brandy, per half pints, 12½c
• Cider oil, per quart, 25c
• Cider or beer, per quart, 12½c
• Diet, per meal, 25c
• Lodging per night, 12½c
• Stabling, with provender, per night, 50c
• Corn or oats per gallon, 12½c
• Pasturage for horse, per night, 6¼c
• Pasture for each head of cattle, per night, 2c
One of the most famous among Kentucky inns was Bell's Tavern, near the cave. The innkeeper, William Bell, called "The Napoleon of Tavern Keepers," is reported by Franklin Gorin in 1876, in The Times of Long Ago, to have run
a great attraction, it had no superior, and was universally known in America and Europe. [Bell's Tavern] was near the Mammoth Cave, and during Mr. Bell's life was the stopping place for all visitors going to or returning from the cave. Mr. Bell was a perfect gentleman in manners and address, yea, in every respect. He was gifted with a perfect talent of knowing and anticipating persons' wants at a glance. He knew, althought he may not have ever seen his guest before, whether he wanted or not a glass of his peach and honey; and he knew exactly what other refreshments he desired, whether venison or beef steak, quail or ham and eggs. His object was to please and satisfy all. His peach brandy and honey was almost as well known as his house, for he had no equal in the preparation of it, and his famous flapjacks.
Such accommodations were the natural meeting place for politicians and celebrities, for the innkeeper himself became a figure of prominence. Nathaniel Willis wrote in an 1852 letter about his experience of Mammoth Cave that:
throughout Kentucky ... in all small villages the landlord [tavernkeeper] is a person who is considered to honor the guest by his company. There is nothing doubtful in this position. That and the profession of stage-driving are too rich in opportunity for influence, give too much access to the minds and opinions of the community, not to have been gradually promoted to the class of occupations for the 'leading citizens.'
No doubt the ministrations of such a person went far to ease travelers just arrived from rough stage travel. But the travel was made easier by the arrival, by 1850, of the railroad. Trains from Louisville to Nashville replaced the principal stage lines, and by the end of the 19th Century, travelers could ride the rails all the way from the main line, at Bell's Tavern in Glasgow Junction, to the Mammoth Cave Hotel. The stagecoach became a thing of history.
The Mammoth Cave Hotel itself passed into history in 1919, when the structure, in part over 100 years old, burned to the ground in less than an hour. With it went the grand ballroom, the verandahs, the covered portico, the dining room. The rustic elegance of orchestras and dances and conversations around log fires faded, but not without leaving this impression on a visitor in 1870:
The visitor is surprised to find in this uncultivated backwoods such a large and cheerful looking dwelling on so handsome a lawn ... here are to be found all the advantages of a first class watering place hotel with the addition of fine country scenery and daily opportunities of observing Nature's great subterranean wonder.
Last updated: May 23, 2018