Not Black Gold, But Just As Good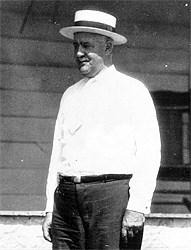 ---
Into this atmosphere stepped George Morrison, an oilman by profession. He had taken an interest in Mammoth Cave, and after taking a tour believed even more strongly that the Cave's length extended beyond the surface boundary of the Mammoth Cave Estate. Surreptitiously, he entered the cave on several occasions and began surveying, creating a map which he would later use to pinpoint possible drilling sites.
One such site presented itself on land belonging to the Colossal Cave owners, and drilling with oil prospecting gear demonstrated the likely place for a new entrance to be blasted. But the Colossal Cave owners would not sell, and Morrison had to continue hunting.
At last word came to him of a large sinkhole in which young boys liked to play in the summer because volumes of cool air issued from underground. Morrison bought the property, drilled several holes, struck cave, and blasted what he termed the "New Entrance to Mammoth Cave." The New Entrance opened onto several long, deep vertical shafts, and exploration beyond the bottom of these shafts revealed direct connection to the old Mammoth Cave, where Rose's Pass meets Boone Avenue.
Morrison began selling tickets, and as potential visitors would pass the "New Entrance to Mammoth Cave" before getting to the Old Entrance, the Mammoth Cave Estate took George Morrison to court, demanding that he stop using the name "Mammoth Cave."
But Morrison was prepared. His guides had met tours being conducted by the Mammoth Cave Estate guides, and persuaded them to extend their tour by exiting at the New Entrance. As these pirated tours exited at the New Entrance, the visitors signed affidavits that they had indeed entered the Old Entrance and come out the New Entrance without returning to the surface and going in again another way. Thus, along with his maps, was Morrison able to demonstrate that he was indeed showing the same cave to the public. The courts agreed, but required Morrison to advertise that his tours would not show any part of what had historically been known as the Mammoth Cave belonging to the Mammoth Cave Estate.
These events aggravated rather than subdued the tensions in the area, and in January of 1925 the Kentucky Cave Wars claimed their first recorded casualty.
Last updated: May 23, 2018