Into the Valley of the Shadow of Death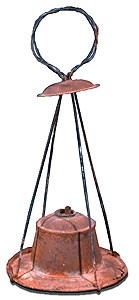 ---
According to tradition, Gatewood's son George, a young minister, preached Sunday services in the room of the cave called "The Church" in 1830. He led his small congregation into the dark valleys, seating them on split-log benches, and, gathering all their lanterns, climbed aloft to a high ledge of stone. Setting the lanterns before him like footlights on a stage, he would climb higher to "Pulpit Rock" and discourse at considerable length on the nature of the divine and the diabolical – leaving his flock helpless and lanternless, listening to his clear, young voice amplified by the enormity of the chamber, surrounded by the shadows and the fear of God.
But the secular practice of simple visitation outlasted the more holy uses of the cave, and tours continued long after Gatewood preached his last sermon underground. For the next several years Hyman Gratz, buying the balance of the estate after Wilkins' death, retained men to guide the declining numbers of visitors into the cave. In time Gratz lost interest in the business and sold the property to Franklin Gorin for $5,000.
Though this represented a considerable reduction in value, the sale was to be the beginning of the Mammoth Cave's lasting fame.
Last updated: May 23, 2018