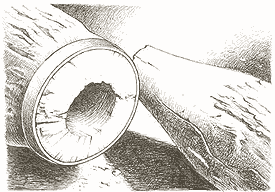 ---
The term "petre cave" refers to the presence of calcium nitrate, or nitre, in the soil of the cave, the by-product of nitrogen-fixing bacteria. No record exists to tell who first discovered nitre in the cave, but from the start men valued the cave for this commodity. Nitre, put through a simple process, could be converted into potassium nitrate, or "saltpetre." Saltpetre, combined with sulfur and charcoal in the proper quantity, renders a good grade of black gunpowder – as dear as gold to men and women taming a wilderness.
So dear, indeed, that 1812, the cave's worth increased over 25 fold in a single day. Hyman Gratz had purchased a half-interest in the cave from Fleming Gatewood for $10,000. Gatewood, along with Charles Wilkins, had bought the cave from Leonard and John McClean, who had bought it from John Flatt, who had purchased the land and the cave from Valentine Simon for $116.67 only a few weeks before. Then, on July 9, all parties cleared title, determining the cave's exact worth.
There was money to be made from the cave, and Gratz and Wilkins set about making it. They had the capital and physical assets – in the form of nearly 70 slaves – to mount a considerable enterprise underground. The slaves began to construct the apparatus which would leach the nitre out of the soil, under the watchful eye of overseers, by the light of dim and smoky lanterns.