The Settlers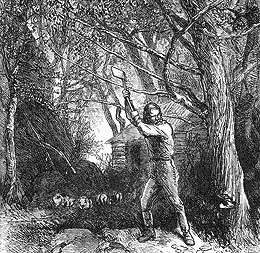 ---
These settlers were farmers – land-clearers and log-cabin homesteaders – corn-growers and timber cutters. The limestone bones of the country made little concession to farmers, however, and as not much of the land aside from the river bottoms was fit for agriculture or cattle-raising, many of the first Green River settlers lived hand-to-mouth. Not that this deterred them; there was freedom here, and independence, a potent temptation for men such as Jacob Locke, who took up residence atop Flint Ridge in the early 1800s, immediately above, though he did not know it, the underground expanse of Colossal Cave – land which would a hundred years later be the subject of legal disputes over the profitable cave business it would offer. The son of Richard and Mary Locke of England, Jacob and his own sons cleared a farm of timber that had grown there undisturbed since the first timber began growing. Jacob's determination was to carve a civil place in the wilderness, but soon discovered a quite different means to that end.
Jacob Locke had little formal education, but knew his Bible. What was more, he had the kind of voice that convinces, and the kind of probing, deliberate wisdom that persuades. Jacob Locke, thus armed, became one of the foremost soldiers of Christianity in the Green River country, and proceeded to establish, or help to establish, most of the Baptist churches and some of the Methodist churches in the area.
In the absence of other social structures, the churches acted as the hub of community life. Pastors such as Richard Doyel, P.M. Dorsey, Bowling Sanders and A.P. Cooper presided over such churches as Dry Branch, Chestnut Grove, Silent Grove, Temple Hill, Little Hope, Stockholm, and Locust Grove Baptist. Joppa Church, Mammoth Cave Baptist, and Good Spring Church still stand today in the national park.
Last updated: May 23, 2018