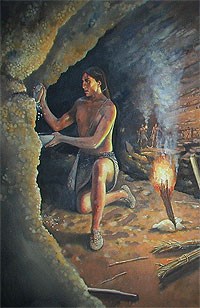 ---
A man arose in the chill morning air, stretching his five-foot frame. He shivered slightly – the clammy river mist was slow to dissipate as it hung over the valley of the Green River. He carefully rolled his sleeping cloth and set it against the wall of the rock shelter that had kept the dew off him, and turned his attention to the fire, which had dwindled to orange coals. He had little use for the fire now, except to kindle the bundle of dry river-cane he had gathered by the bank the day before. He threw enough leaves and sticks on it to keep the embers alive while he took a drink from the water falling over the lip of the shelter, and ate a hurried breakfast of crushed hickory nuts and sunflower seeds. A little meat would have been welcome, but yesterday's hunting had been poor.
His meal finished, he gathered his tools – digging stick, woven sack, and torches – slipped on his woven shoes, gathered his waistcloth around him, caught the torches ablaze in the fire, and turned to faced the vast darkness in the back of his shelter, which was, after all, the cave.
He ventured in, as his people had been doing beyond memory, to gather the white crystals from the cave walls. Earlier generations had picked clean the foremost parts of the cave, as high as a man could reach, making it necessary for him to venture deeper, miles in, to reach the crystals. Spent torches lay scattered among the rocks, torches left ages ago, yet preserved undecayed by some unearthly quality of this place.
The man continued, following the principal cavern, picking his way gingerly over rough and tilting stones, until, bend by bend, he reached a little-known reach of the cave. The white mineral sparkled dimly on a high ledge, and he made his way to it by agile navigation of hand- and footholds in the rock. Finding a good sample beneath a huge boulder, this man took his digging stick in hand and began to dig ...