Grand, Gloomy and Peculiar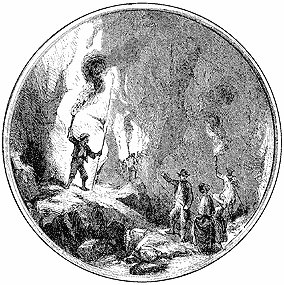 ---
Franklin Gorin, a lawyer from nearby Glasgow, Kentucky, at once saw the cave's potential as a public attraction, and began to use official guides to the underground. In his February 9, 1868 letter to a Dr. Forwood, Gorin writes that:
"I purchased the cave and property when it was in a delapidated state, and placed Mrs. Moore there (Mr. Moore having previously died) together with Archibald Miller, her nephew, and a son of the previous occupant of the same name, as my agents ... it was while I owned the property that a nephew of mine, Mr. Charles F. Harvey ... was lost in the cave for thirty-nine hours. After he was found I determined to have further explorations. At that time no person had ever been beyond the Bottomless Pit ... I placed a guide in the cave – the celebrated and great Stephen, and he aided in making the discoveries. he was the first person who ever crossed the Bottomless Pit, and he, myself and another person, whose name I have forgotten, were the only persons ever at the bottom of Gorin's Dome to my knowledge ... previous to these discoveries all interest centered in what is known as the Old Cave."
Gorin had purchased the 17-year-old slave Stephen Bishop in Glasgow, and brought him to the cave for the express purpose of guiding wealthy white tourists through the underground. Whatever Stephen lacked in education from his early life he swiftly acquired, so much that Gorin would later recount that Stephen was:
a self-educated man ... He had a fine genius, a great fund of wit and humor, some little knowledge of Latin and Greek, and much knowledge of geology, but his great talent was his knowledge of man. ... There was not any Indian blood in Stephen. I knew his reputed father. I owned Stephen's mother and brother, but not until after both children were born. Stephen was certainly a most extraordinary boy and man. His talents were of the first order. He was trustworthy and reliable; he was companionable; he was a hero and he could be a clown. He knew a gentleman or a lady as if by instinct. He learned whatever he wished to learn without trouble or labor, and professors of geology spoke highly of his knowledge in that department of science.
Gorin owned Stephen and the cave for only one year, and then, because of financial difficulty, was obliged to sell both "properties" to Dr. John Croghan of Louisville. Croghan quickly recognized Stephen's abilities, and extended to him the freedom to explore. In 1838 Stephen set a wooden ladder across the Bottomless Pit, shinnied across it with his lantern in his teeth, and became the first human being to behold the wonders beyond, opening the gates to further exploration. By 1839 he had discovered the Echo River and Roaring River, and the bizarre eyeless fish living in their waters, and in 1840 he found what he would later consider his greatest discovery, the 192-foot high Mammoth Dome. In 1841, in the company of John Craig of Philadelphia and Brice Patton, a teacher for the Blind Asylum in Louisville, Stephen discovered the gypsum-encrusted Cleaveland Avenue.
Stephen's discoveries continued until his death, of unknown circumstances, in 1857. Dr. Croghan had died in 1849, and his will freed Stephen in seven years, or in 1856. Stephen is said to have been planning to go to Liberia, the newly established African colony for freed slaves, and purchased land which he sold for profit, profit which could have been used for the voyage. But instead he purchased another parcel of land, and then died with only a year of freedom behind him.
It may be that Stephen met with the fate of many a Kentucky caver – they say you get "mud in your blood" – that you can't turn your back on the mysteries below and the challenges they offer. Certainly Stephen had gained fame and stature as a Mammoth Cave Guide not only across the nation, but overseas as well, and could have hoped for no greater reknown in Liberia or anywhere else. Or it may be that the cave was jealous of its secrets, and having shared so many of them with Stephen, it could not allow him to leave. Whatever the reason, Stephen passed on, and deeper in, and became legend, leaving only this personal reflection about the Mammoth Cave, that it is "a grand, gloomy and peculiar place."
Last updated: May 23, 2018